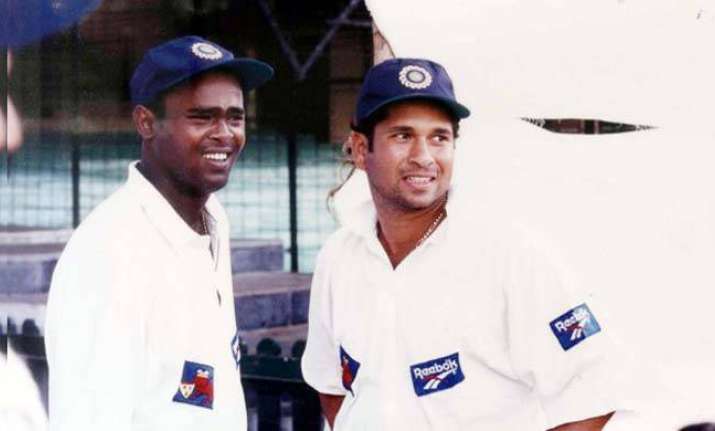 Former India cricketers and childhood friends Vinod Kambli and Sachin Tendulkar have buried the hachet and have become friends again. Recently, both were spotted together at an event. "Yes, everything is fine between us and I'm happy with it. We hugged each other. We want to tell people that we're back. It was mutual, and I'm very glad about it," Kambli told the Times of India.
Backstage at the launch of @sardesairajdeep book wt the author, the master @sachin_rt @vinodkambli349 n @shishhattangadi
💥🌟🎉😳😊 pic.twitter.com/u5wFoC6hbJ

— atul kasbekar (@atulkasbekar) October 23, 2017
This brings a new chapter to the famous Tendulkar-Kambli friendship eight years after Kambli had alleged in TV chat show that Tendulkar didn't do enough to salvage his career.
"We are very close... we were very close. He could have done a little more, but he didn't," Kambli had said in July 2009.
Kambli's comments led to Tendulkar distancing himself from his childhood friend. When the Master Blaster called time on his international career in 2013, Tendulkar didn't mention Kambli's name in his farewell speech.
That led to Kambli expressing his grief publicly.
"I am deeply hurt. I was expecting my name to be part of his farewell speech. If anything for our famous partnership. Its that world record partnership that was the turning point of our careers. That's when everyone came to know who is Vinod and Sachin. I had a hand in that and our careers started from there. I thought he could have mentioned that part at least," he had said.
Tendulkar and Kambli's friendship goes back a long way. In 1988, teenagers Tendulkar (14) and Kambli (16) hit the headlines when both were involved in a record Harris Shield partnership of 664 runs.