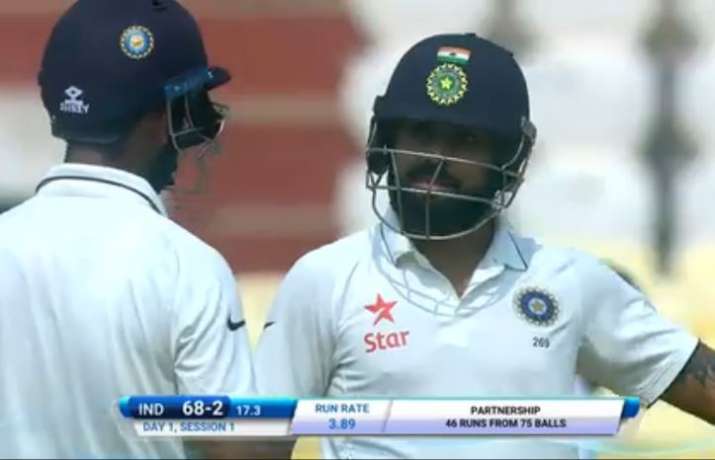 Indian Test team skipper Virat Kohli lost his temper several times on day 1 of the ongoing Test match against England at the Dr. Y.S. Rajasekhara Reddy Stadium in Visakhapatnam on Thursday. And the reason behind was ill-timed understanding between the wicket with his partner Cheteshwar Pujara.
The duo, who struck superb centuries to put India on driving seat, had mix-ups while running between the wickets not once or twice but thrice.
The first instance was in the 17th over when Virat Kohli tried to take a single off Adil Rashid. Kohli was fast but Pujara wasn't that quick and he made the dive save himself.
Just two balls later, Kohli pushed the ball to the onside and took an easy single. The second was on and Pujara had already run halfway across the pitch when Kohli screamed for him to go back. Pujara turned around, lost his bat in the process, ran a few steps and made a desperate dive in the end.
The next instance came in the 25th over. This one wasn't one that was as threatening as the other two but Pujara would have found himself in trouble had it been a direct throw as he made his way back after Kohli refused him a single.
Click here to watch the whole episode
Meanwhile, India are 367 for the loss of seven wickets on day 2 of the second Test match. Virat Kohli, who was heading towards his third double century in Test cricket, was dismissed at 167 runs.