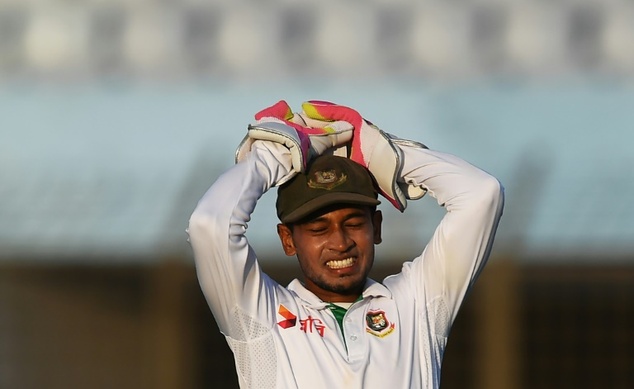 The visiting Bangladesh team, which continued with their low form on field, have had poor decision-making by skipper Mushfiqur Rahim add to their woes. Missing an easy stumping chance to dismiss India's wicket-keeper batsman Wriddhiman Saha today at the Rajiv Gandhi International Stadium here on Thursday only compounded the team's woes which had already suffered at his hands for making an awful DRS call.
On day 1, Rahim just about managed to take the worst DRS of the decade and the incident got audiences, commentators and the batsmen at the crease puzzled.
During 62nd over, Indian skipper Virat Kohli had tranquilly safeguarded a ball pitched somewhat outside the off-stump from left-arm spinner Taijul Islam.
 
As the Indian skipper was getting ready to face the next ball, Rahim decided to review the delivery for LBW.
Today, on day 2, Rahim missed out a crucial opportunity to stump Cheteshwar Pujara as he got two attempts to dislodge the bails. Saha made them pay heavily remaining not out at 106.
India declared innings at 687/6 after Pujara and Ravindra Jadeja displayed some delicate shots in the end.
Here is how Twitter reacted:
#IndvBan Bangladeshi players again prove why they are dumbest cricket players.... #reviewonvirat @mushfiqur15

— Vaibhav Revankar (@VaibhavRevankr) February 9, 2017
Bangladesh were testing whether the review system is working properly or not. #INDvBAN

— Sampath Bandarupalli (@SampathStats) February 9, 2017
Mushfiqur Rahim just realized he has not used any of the reviews, so he decided to waste one. Ridiculous ! #IndvBan @mushfiqur15 😅😅😅

— Meet Thakkar (@mirani_meet) February 9, 2017
How to waste a DRS - authored by Mushfiqur Rahim #cricketbooks #INDvBAN

— Gagan Thakur (@gagan_gt) February 9, 2017
If a captain makes such a stupid appeal what can u expect from d rest of the team. Kids still have 2 learn a lot. #MushfiqurRahim #IndvsBan

— Suhail (@imroz_suhail) February 9, 2017
Mushfiqur Rahim and Bangladesh reach new low on Indian soil. Appeal for LBW when the ball never touched the pad and then review it #IndvsBan

— Kaushal Shukla (@KasualShukla) February 9, 2017