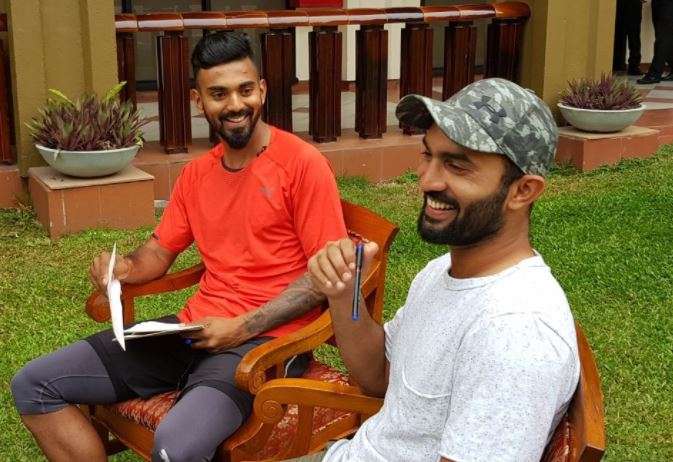 While Team India all-rounder Hardik Pandya has been rested from the on-going Nidahas Trophy in Sri Lanka, opener KL Rahul and wicketkeeper Dinesh Karthik love the fact that the 24-year-old is not around.
In a video released by the BCCI on their official Twitter handle, the duo seem to be cracking jokes and making fun of the all-rounder. Rahul and Karthik took a dig at Pandya in an entertaining way and said that his antics on tours light up the room. Take a look.The BCCI uploaded a video with the caption 'Hey @hardikpandya7 - Looks like your buddies @klrahul11 and @DineshKarthik have a special message for you ;) 
Hey @hardikpandya7 - Looks like your buddies @klrahul11 and @DineshKarthik have a special message for you ;)
Full video of the DK-KL Best friend challenge coming soon on https://t.co/Z3MPyesSeZ
Watch this space for more #TeamIndia pic.twitter.com/lUuIEdDbQe

— BCCI (@BCCI) March 10, 2018
KL Rahul and Dinesh Karthik said 'We don't miss you at all. The next three months are going to be so peacefull without you'.
"It's so peaceful because he is like a diva when we go out. He wants all the attention. 'Everybody look at me... Everybody listen to me… I'm wearing this watch… This is what I bought today…' and we are like we are not interested. We don't want to listen to you talking. But yes, he keeps it entertaining."
In the latter end, the Team India players admitted that they're missing their star all-rounder. 
Pandya along with skipper Virat Kohli, MS Dhoni, Jasprit Bumrah and Bhuvnehswar Kumar have been rested from the Nidahas Trophy after a long and gruesome tour of South Africa.
Pandya improved his game in the limited overs format of the series and saw the all-rounder perform well more with the ball than the bat. 
Dinesh Karthik, who comes in as a replacement for MS Dhoni as wicket-keeper will be the man behind the stumps for the on-going Tri-Nation series. The middle-order batsman was also announced as the captain of the Indian Premier League franchise Kolkata Knight Riders last week.
KL Rahul, who is yet to play in the starting XI of the T20I tournament so far, will have to up the ante if he is to place a spot in the teamsheet. The opener will play for the Kings XI Punjab in the 11th edition of the IPL after he was bought for a massive 11 crore.
The Rohit Sharma led Team India lost the opening match to Sri Lanka but managed to bounce back with the same playing XI to defeat Bangladesh by 6 wickets. India will play Sri Lanka in the 4th T20I of the Tri-Nation series on Monday, March 12.