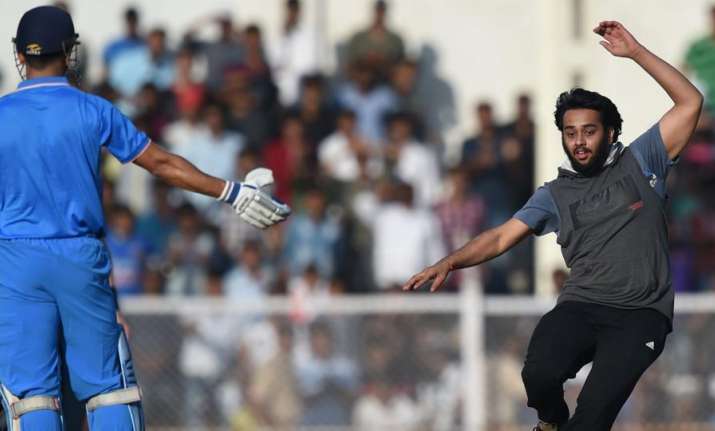 The scenes today at Brabourne Stadium in Mumbai were hysterical. Any routine practice match, especially on a working day, may not witness a big crowd, but the one featuring the visiting England team today was a special one.
It was the final time that India's most successful skipper Mahendra Singh Dhoni was seen leading the side although it's an 'A' team.
And the crowds too nearly packed the stadium in South Mumbai to witness 'Captain Cool' for one last time at the helm.
Emotions were at an all time high as an overenthusiastic fan broke free from the packed crowd to touch his feet while the stands reverberated with his name. The fan ran on to the field to fall at Dhoni's feet, and when the skipper told him not to step on the pitch, he obliged by jumping over.
Dhoni was kind enough to shake his hands as he asked security officials not to beat him up.
He was escorted out of the playing area by the police and then taken out of the stadium. The overwhelmed man stumbled his way out, constantly turning back to catch a glimpse of his hero.
"No further action was taken," Cricket Club of India sources said.
Dhoni bludgeoned his way to an unbeaten 68 (40 balls) by the time the India A innings ended.
The Ranchi superstar and captain of the 2007 World T20 and 2011 World Cup winning squads was leading the India A side in the first of two warm-up matches to be played by the tourists.
Since the afternoon, queues were seen at the gates of CCI as a palpable excitement was seen among the crowd. Notably, the entry to the crowd was free for this particular match.
As the first wicket of Mandeep Singh fell, the crowds cheered "Dhoni-Dhoni" as they expected MSD to elevate himself, but to their much disappointment Ambati Rayadu walked in.
Dhoni, who sprang a surprise on the cricket-crazy nation by quitting as the limited overs skipper, was seen playing football with his teammates at the same venue last evening. He also practised in the nets under lights.
Whoever the batsman at the crease, the crowd was just cheering for Dhoni and was keen to have the glimpse of their favourite leader for the one last time donning the skipper's hat.