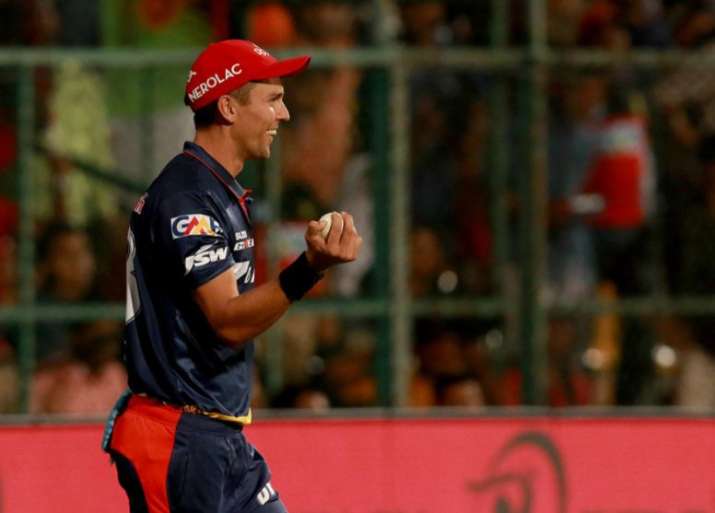 This might just be the catch of the century. New Zealand and Delhi Daredevils pacer Trent Boult stunned the world with a screamer of a catch, right near the boundary rope to dismiss Royal Challengers Bangalore skipper Virat Kohli on April 21 in match 19 of the Indian Premier League at the M Chinnaswamy Stadium in Bengaluru. 
So here's how it all went down. RCB skipper Virat Kohli hit a shot on a full toss on deep square leg boundary and it was Boult who was present. He leapt airborne to pouch a one-handed catch, fall backwards. It was a wrong handed diving effort which worked out. As he fell backswords, he was just millimetres off the boundary rope which stunned Kohli, left the crowd at Bengaluru awestruck and sent social media into a frenzy. 
"Don't really feel bad getting out to a catch like that"Virat Kohli on Trent Boult stunner.#ViratKohli#TrentBoult catch#IPL2018 pic.twitter.com/mv26V4Dcvm

— బేతాళుడు (@bhethaludu) April 22, 2018
"I was stunned when he took it, that's a brilliant catch. It happens in the IPL especially," Kohli said RCB won the match by 6 wickets against Delhi Daredevils.
"Good to see. That's a catch when you look back, you don't feel bad about getting out," said Kohli.
The match had everything involved, but the standout alone was Boult's breath taking catch. AB de Villiers struck 90 off 39 balls while Rishab Pant thrashed 85 of 45 balls.
Twitter was left flabbergasted after Boult took one of the most brilliant catches ever witnessed.
I think we could quite easily have just seen the Greatest EVER catch .... #TrentBoult #IPL #Virat

— Michael Vaughan (@MichaelVaughan) April 21, 2018
OOOOHHHHHHHHHH BHHHHHAAAIIIII!!!!!!

CATCH OF THE SEASON! @trent_boult, unbelievable!!!!!!!#DilDilli #Dhadkega #RCBvDD

— Delhi Capitals (@DelhiCapitals) April 21, 2018
That was incredible from Trent Boult. Only a catch as spectacular as that could break this partnership. The captain reluctantly departs.#RCB- 92/3 after 11 overs, need 83 to win off 54 balls#PlayBold #RCBvDD

— Royal Challengers (@RCBTweets) April 21, 2018
Stop what you're doing and go look at the catch Trent Boult just took. That is one of the best catches that the game of Cricket has ever seen without any doubt. Just breathing distance and he took it with ease. #RCBvDD

— Hemang Badani (@hemangkbadani) April 21, 2018
Who won? Who lost? Who cares? Trent Boult and ABD were the show stealers tonight ⚡⚡⚡⚡ #RCBvsDD

— Kingslayer__ (@_BreathingFire_) April 21, 2018