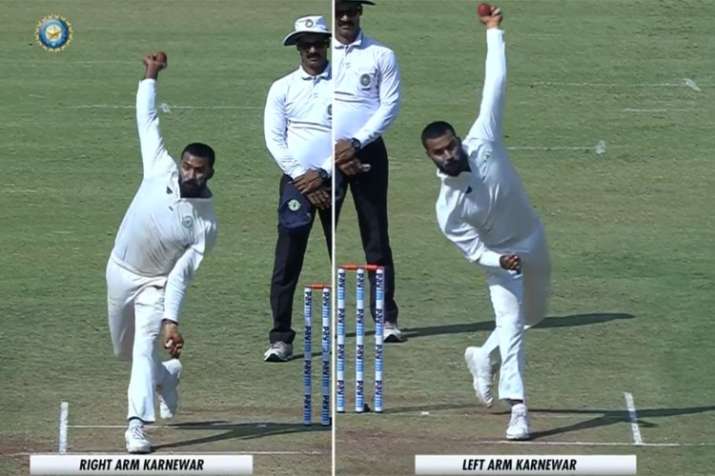 Cricket is a game full of surprises and a shocker came in the ongoing Irani Cup match between Rest of India and Vidarbha.
In the ongoing match, Akshay Karnewar of Vidarbha, who is a left-arm spinner tried his other hand to bowl in the match during the first innings of Rest of India on Day 1.
It was the last ball of 59th over when Akshay decided to do something special with his right hand and informed the umpire about the situation. The umpire was quite shocked with his decision and then told the batsman that left-arm Akshay is going to bowl with the right hand.
Before that delivery, he picked up the prized wicket of Shreyas Iyer who managed to score only 19 runs in the first innings.
#akshaykarnewarhttps://t.co/XNMN7biS4C

— GreatDingo (@GreatDingo007) February 13, 2019
Wicketkeeper-batsman Ishan Kishan was the batsman who faced Akshay's delivery as he was the batsman to join Hanuma Vihari at the crease after Iyer's dismissal.
Ranji Champion Akshay picked only one wicket in the first innings but he had an excellent show with the bat as he managed to hit 102 runs in 133 balls and was the top scorer for the Vidarbha's team.
The hosts decided to rest their veteran player - Wasim Jaffer - for the important match after a successful Ranji campaign, who was also the second highest run-getter in the tournament with 1037 runs.
Vidarbha took an important 95-run lead in the first innings against Rest of India captained by Ajinkya Rahane.