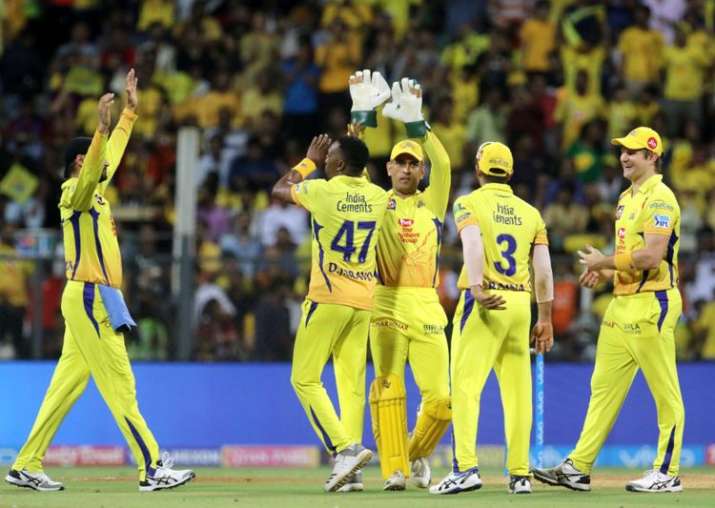 MS Dhoni has led Chennai Super Kings, a team full of veterans, to a dreamlike finish on their return to the Indian Premier League (IPL) after a two-year break due to spot-fixing scandal. Dhoni will be playing his eighth final (seventh as captain) and he has once again shown that there is a method to CSK's madness.
The wicketkeeper-batsman was also a part of the last season runners-up team Rising Pune Super Giant, who lost the title to Mumbai Indians. Now leading from the front, Dhoni has the best chance to equal Mumbai's maximum title wins' record (3).
The average age of the core team comprising Dhoni (36), Ambati Rayudu (32), Suresh Raina (31), Dwayne Bravo (34), Shane Watson (37) and Harbhajan Singh (37) is 34 and half years.
CSK won half of their battle at the auction table. During the rebuilding phases, the mantra for teams is always to look for young and dynamic performers.
For Dhoni and CSK, this year was about instant delivery and they needed experienced players, who knew what it takes to win an IPL. A look at his core team would show us that all have won IPL titles before with significant contribution from the franchises.
CSK's top run-getter Ambati Rayudu (586) is 100 runs behind Orange Cap holder Kane Williamson (688). Their top wicket-taker Shardul Thakur (15) is way behind Andrew Tye's 20 scalps.
Yet, the execution of strategy has been much better than other teams with limited resources. If one looks at four major reasons for CSK's success, the topmost will be batsman Dhoni's form.
At the twilight of his career, 'Captain Cool' has enjoyed his best ever league with 455 runs from 15 games with a strike-rate of 150 plus and to top it all - a total of 30 sixes.
Most of his runs have come in tricky situations, which has been Chennai's biggest gain. Dhoni has had problems against leg spinners but most of the Indian pacers have been butchered by him.
In the IPL 2018 final, CSK will look to outdo Sunrisers Hyderabad to regain the coveted trophy in a humdinger of a summit contest at the Wankhede Stadium, Mumbai, on Sunday.
The winners-take-all T20 final, in front of a capacity crowd at the Wankhede Stadium, will see Chennai Super Kings, who are gunning for their third IPL crown, take on 2016 winners Sunrisers Hyderabad five days after their first playoff game at the same neutral venue.
These two southern rivals met at the bull-ring on May 22 in Qualifier 1 in which the Super Kings, champions in 2010 and 2011, just about managed to ward off their rivals in a low-scoring thriller after looking down in the dumps at one stage during the run-chase.
That victory, by two wickets, enabled the Super Kings to enter their seventh final in nine attempts directly, while dumping their Hyderabad rivals to their third successive defeat in head-to-head contests this season.
Sunrisers had to travel to Kolkata to book their final berth after knocking out two-time former champions Kolkata Knight Riders by 14 runs in Qualifier 2 on Sunday.
Chennai Super Kings vs Sunrisers Hyderabad, IPL Final
Venue: Wankhede Stadium, Mumbai 
Date and Time: May 27, 07:00 PM IST
Chennai Super Kings' journey to IPL 2018 Final
Match 1, MI vs CSK: Chennai Super Kings won by 1 wicket
Match 2, CSK vs KKR: Chennai Super Kings won by 5 wickets
Match 3, KXIP vs CSK: Chennai Super Kings lost by 4 runs
Match 4, CSK vs RR: Chennai Super Kings won by 64 runs
Match 5, SRH vs CSK: Chennai Super Kings won by 4 runs
Match 6, RCB vs CSK: Chennai Super Kings won by 5 wickets
Match 7, CSK vs MI: Chennai Super Kings lost by 8 wickets
Match 8, CSK vs DD: Chennai Super Kings won by 13 runs
Match 9, KKR vs CSK: Chennai Super Kings lost by 6 wickets
Match 10, CSK vs RCB: Chennai Super Kings won by 6 wickets
Match 11, RR vs CSK: Chennai Super Kings lost by 4 wickets
Match 12, CSK vs SRH: Chennai Super Kings won by 8 wickets
Match 13, DD vs CSK: Chennai Super Kings lost by 34 runs
Match 14, CSK vs KXIP: Chennai Super Kings won by 5 wickets
Qualifier 1, SRH vs CSK: Chennai Super Kings won by 2 wickets