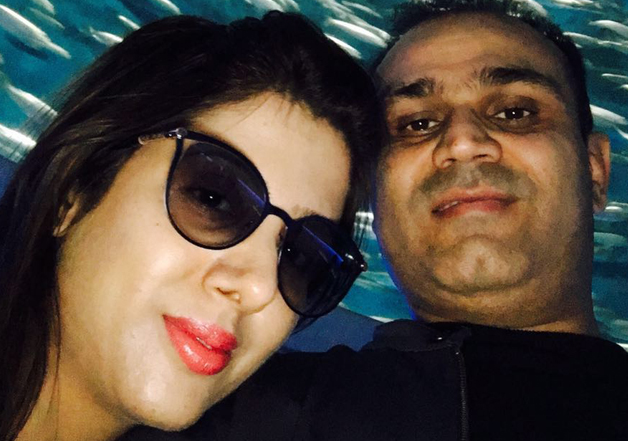 Cricketer Virender Sehwag, who has acquired quite a reputation of hitting them out of the park from his Twitter account, provided some fresh fodder for users to joke about today. It all started when he wrote a birthday wish for wife Aarti Sehwag, unleashing a sea of jokes.
Famous for his sarcastic birthday tweets, Virender kept up with his nature in the birthday wish for his wife as well. However, his tweet was laced with some demonetisation humour when he said 'Sachha pyaar aur 100 ka note Mushkil Se milta hai'.
It seemed this statement was enough to bring out the funny side of Indians who are queuing outside ATMs and banks. Many of them shared their woes on the Twitter thread and also joked about it.
Here is Virender's tweet and the replies that will surely crack you up:
Happy Birthday Biwi ji @AartiSehwag .#16December ,already a movie on your date of birth.
Sachha pyaar aur 100 ka note Mushkil Se milta hai. pic.twitter.com/KJHTiHCAyh

— Virender Sehwag (@virendersehwag) December 16, 2016
axis bank chale jaaiye 100 kya 2000 ka bhi milega 😝😜 @AartiSehwag

— bedardi raja (@CopyWalaTweet) December 16, 2016
100 नोट तो मिल भी जाता है पर वीरू एक ही बार मिलता है पृथ्वी पर और वो भारत को मिला है।

— Vijay Gulhare (@vijaygulhare) December 16, 2016
My wifey's bday is coming soon. I'm copying this one "Sachha pyaar aur 100 ka note Mushkil Se milta hai"

— Raviraj Arora (@lucky2201983) December 16, 2016
Shri Virender Sehwag bhi mushkil se milte hain :)

— Abhishek Tiwari (@abhisays3010) December 16, 2016
Now that a large chunk of netizens have replied on the matter, let us see how Aarti replies to this.
Like Virender, his wife too has a penchant for sarcastic tweets.
A few months ago when the 'Sultan of Multan' had tweeted wishes for R. Ashwin after his amazing performance in a match, he had added a caveat that only a married man could understand the need to come home early.
To this tweet, Ashiwn's wife Pritha said she didn't do much. But what made it more funny was the reply from Aarti which read, "Neither did I. Both in a hurry as always @ashwinravi99 @virendersehwag."
Virender and Aarti got married in 2004 and have two sons - Aryavair and Vedant.