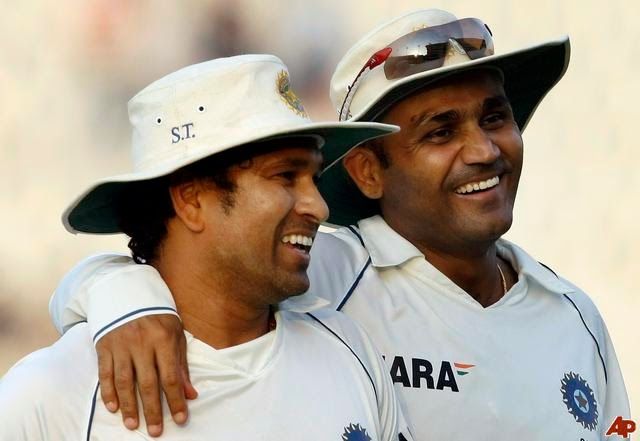 Former India opener Virender Sehwag has said that if he could change one thing about himself, it would be his name. The 38-year-old, who once destroyed some of the best bowling attacks at will, revealed that he would love to change his name to "God" Sachin Tendulkar. Sehwag, who was Tendulkar's opening partner for a long time, said he envies the master blaster's records.
The Nawaf of Najafgarh, who has joined India TV as the new cricket expert on its hugely popular show "Cricket Ki Baat", said he would love to be called a "God" in this mortal world. 
Tendulkar, who played for India from 1989 to 2013, is arguably the most complete batsman and highest international run-scorer in the history of the game. The 44-year-old, who was awarded India's highest civilian award the Bharat Ratna after his retirement, owns most of the batting records - highest run-scorer in both Tests and ODIs, most number of centuries in both Tests and ODIs to name a few.
Even after his retirement, the little master remains a revered figure in India and also around the world and is fondly called as the "God of Cricket" by his millions of fans.
"I would want to change my name to Sachin Tendulkar if I could do it. He has tons of records, I am not even close to him. He is called as the "God" and who would not want to be a God in this mortal world," Sehwag told India TV.
The swashbuckling Sehwag was in his elements during the chat show and said that India captain Virat Kohli can overtake Tendulkar's records.
Sehwag said Kohli has at least 10 years of cricket left in him and can easily break batting maestro's records in future. 
Kohli recently slammed his 30th ODI hundred on the Sri Lanka tour and equalled former Australia skipper Ricky Ponting's record. Kohli is now second behind Tendulkar's record of 49 ODI centuries.
Sehwag said people always thought that there would not be another Tendulkar but Kohli has changed this mindset after his arrival.
"We never thought that there would be another Sachin Tendulkar. But Virat Kohli has changed this mindset. I think Virat can surpass Tendulkar's records," Sehwag said.