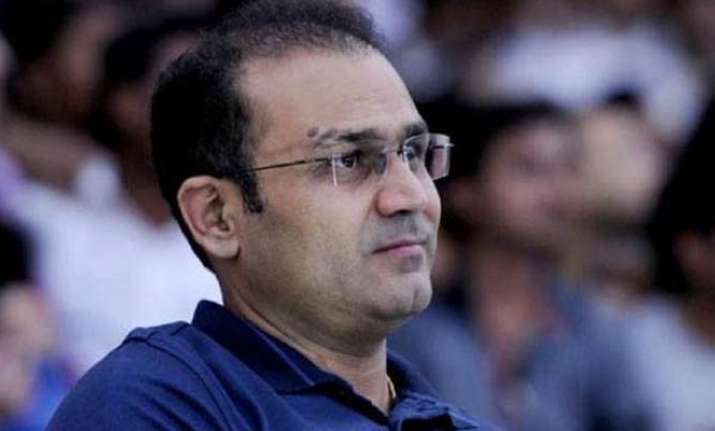 As Team India look to bounce back firmly against England following a narrow loss in the first Test at Birmingham, former India opener Virender Sehwag said the visitors need to stick with the same playing XI for the second Test match at Lord's starting from August 9. Sehwag warned against making changes to the line-up as he felt that it would eventually dent the confidence of the players.
India lost the series-opener by 31 runs as the Indian batsmen, with the exception of Kohli, failed to tackle the English attack.
Opener Vijay (20, 6) and middle-order batsman Rahane (15, 2) contributed 43 runs together in their two innings at Edgbaston.
On the question of whether Cheteshwar Pujara should be included in place of KL Rahul for the second Test, Sehwag told IndiaTV during "Cricket Ki Baat" show: "If KL Rahul played the first Test then I think he should play the second match too. He should get enough chances. Because if you drop a player after just one match, it will definitely hurt his confidence. I think a player should get at least one full series and then if he fails to perform, you can drop that particular player from the team and give chance to others."
"Five Test matches and 10 innings are enough for a player to perform and if somebody fails in it then he should be dropped.
"Yes, earlier I did think that Pujara should play at Lord's but now I feel that KL Rahul should get the chance since he played the first Test. If he fails to perform in both the innings at Lord's then I think it would be good to bring Pujara in for the third Test," he added.
Sehwag said he was hurt to see the Indian batsmen fail so miserably in the first Test. 
"Team rankings do not matter in cricket. If you play well on a particular day, you will win. I felt sad to see India play poorly on those three days in Birmingham. The bowlers did a good job but the batting wasn't good. If there would have been one batsman who could have supported Kohli in the first innings then India would have got a lead of 50-60 runs. The margin of our defeat was just 31 runs. As I have said earlier, it is always important to match the first innings score of the opposition," he said.
Sehwag said only three Indian players will be confident going into Lord's. 
"India should have won the first Test. The batsmen spoiled all the good things done by the bowlers. Only three players will be confident ahead of Lord's and they are Kohli, Ashwin and Ishant. They all performed well at Edgbaston and will be confident going into Lord's. But India can't win the match with just three players. All the 11 players need to contribute."
Kohli shone with his maiden century on English soil and followed that with a valiant fifty in the second innings. While R Ashwin returned with seven wickets, Ishant Sharma took 6 wickets in the match, including his 8th five-wicket haul in Tests. 
"I think the Indian management must have taken their lessons from first Test and would do some extra sessions with the batsmen ahead of second match. If we see a repeat of Edgbaston at Lord's then India will again end up losing the match no matter how good our record is in Lord's," Sehwag said.
The former aggressive opener, who scored 8586 runs in Test cricket, said the team management now needs to keep the players motivated so that they stay in a fresh state of mind before the second match.
"The team management, whether it is Sanjay Bangar, Ravi Shastri or Bharat Arun... they have to keep talking to the players and tell them that they should forget whatever happened in Edgbaston and should focus on the next match. If the failure in Edgbaston continues to be there on the minds of the batsmen then it would create problems for India in Lord's. Team management has to motivate the players. There should be some fun activities during the free time, some team bonding sessions so that they are in fresh state of mind before hitting the nets," he said.