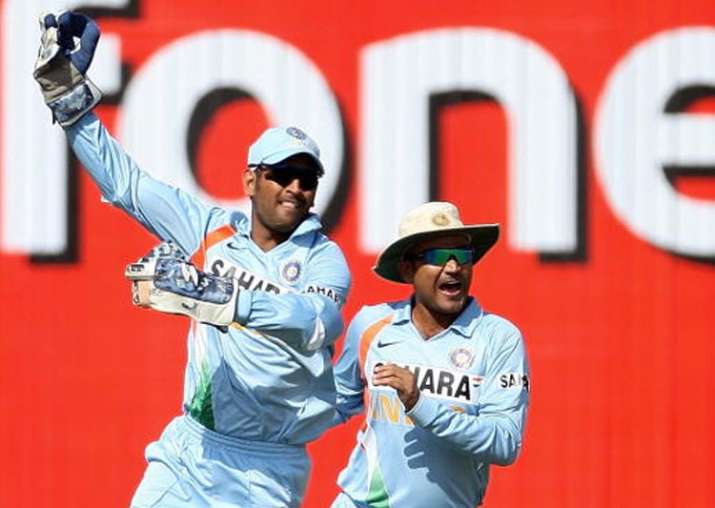 While Mahendra Singh Dhoni's future in the Indian team and whether or not he deserves to be in the side for the 2019 World Cup is still hotly debated, India's former explosive opener Virender Sehwag feels that the former captain should definitely feature in the next showpiece event to be held in England and Wales.
In an exclusive chat with India TV, Sehwag said Dhoni is a great player and a finisher par excellence. Citing the example of Dhoni's good show in the ongoing ODI series against Sri Lanka, Sehwag said he has to be a part of the team in 2019 World Cup.
"MS Dhoni has just won India two matches against Sri Lanka. He is a great player and a finisher par excellence. I think he has to play in the 2019 World Cup," Sehwag told India TV.
In the second ODI against Sri Lanka, Dhoni struck an unbeaten 45 and along with Bhuvneshwar Kumar, who smashed his maiden fifty, helped India cross the finish line in a tricky chase. In the next match on Sunday, Dhoni slammed an unbeaten 67 to guide India to a six-wicket victory which allowed India to seal the five-match series.
Sehwag opined that young wicket-keeper batsman from Delhi, Rishabh Pant - who is seen as a possible replacement for Dhoni in limited-overs - was still too young for the role. 
"I think Rishabh Pant is still too young for one-day cricket but he can be definitely be given chances in T20s. Pant should play more first-class cricket and two years down the line he can be a good replacement for Dhoni in ODI cricket," he said.
YUVRAJ SINGH, SURESH RAINA SHOULD BE INCLUDED IN THE TEAM: VIRENDER SEHWAG
Sehwag, who has scored over 17,000 international runs for India during an illustrious career spanning 14 years, also voiced for the inclusion of stalwarts Yuvraj Singh and Suresh Raina in India's ODI squad. 
Sehwag said Yuvraj and Raina, with their wealth of experience, provide solidity to the middle-order.
"This Indian side is the best but I feel Suresh Raina and Yuvraj Singh can be added into the team. Both of them are very experienced and can provide the solidity to the middle order with MS Dhoni," he said.
(With inputs from India TV Sports correspondent Vaibhav Bhola)