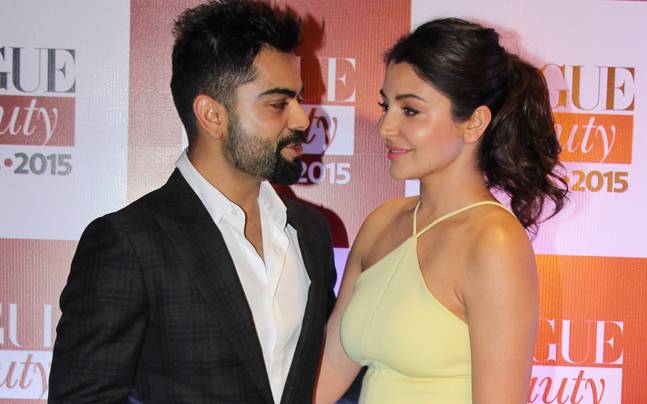 India captain Virat Kohli is a daredevil on the field and he likes to carry his candid nature off the field as well. However, the 28-year-old batting stalwart has mostly been secretive or rather unresponsive on queries related to his personal life and on his rumoured relationship with Bollywood actor Anushka Sharma. Unlike his daring attitude when on the field, Kohli has never really been open about his relationship which has always kept the rumourmills busy.
However, of late the star couple has been spotted making joint appearances at parties and weddings. It all started at the wedding of flamboyant all-rounder Yuvraj Singh's wedding, where Kohli and Anushka were seen dancing together with the newly married couple. Yuvraj Singh married Bollywood actor Hazel Keech in a grand ceremony last year.
Anushka has also been seen with Kohli during many of India's cricket series both home and abroad. Recently, Kohli and Anushka attended the engagement ceremony of former India fast bowler Zaheer Khan and another Bollywood actor Sagarika Ghatge. The couple was also attended a special screening of 'Sachin: A Billion Dreams' together. They even wished each other on Valentine's Day.
Now, in an interview to Star Sports, Kohli has for the first time opened up on Anushka. The elegant right-hander revealed that how the Bollywood diva has been an integral part of his life during some crucial moments of his cricketing career.
"I was in Mohali and there was a Test series going on. I was with Anushka then, she had come to visit me. Surprisingly, when I was made Test Captain, then also she was in Melbourne with me. That was a very special moment we shared together," he said.
Kohli was made the Test captain after Mahendra Singh Dhoni retired from the longest format of the game during India's four-Test series against Australia in 2014. Kohli made a hundred on debut Test as captain. 
Kohli, who is rated as the one of the world's best batsmen at the moment, was handed India's limited-overs leadership in January this year after Dhoni stepped down from the post following a nine-year reign.
Kohli said he felt really emotional after he got to know about his limited-overs captaincy and the moment became really special because he was able to share it with Anushka.
"During the Mohali incident, they had spoken to me already. When I hung up the phone and told her, for me it was like a flashback. From the moment I started playing in my academy till the Mohali game. I was emotional. I was in tears because I had never thought that I will see this day.
"What was more beautiful was that, I was able to share it with Anushka. It was something that I will always remember," Kohli added.