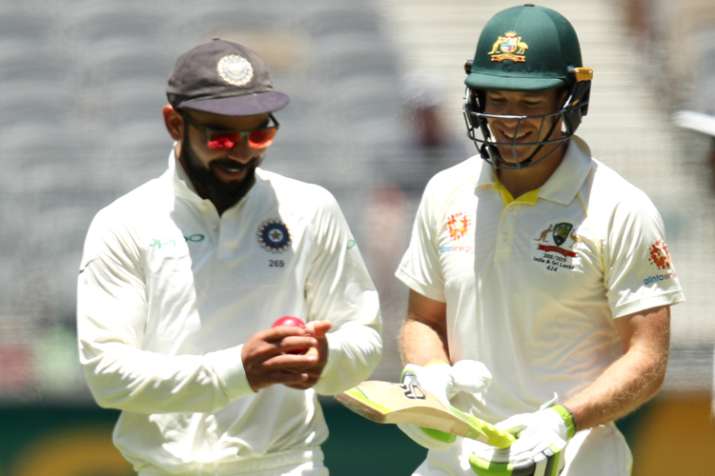 Virat Kohli and Tim Paine's on-field antics drew a lot of eyeballs during the second Test in Perth and got many people talking.
Some liked it while some did not but the two captains seem to be perfectly okay with whatever happened and are not reading too much into it.
Kohli and Paine  were constantly heard chattering on the stump mic and at one point clashed at the non-striker's end as well.
It all seemed to have started when Australia was batting in their second innings and Kohli was loud while fielding in the slips. Kohli was heard telling Paine "You mess it up and it's 2-0." To which, Paine replied "You've got to bat first 'big head'."
It went on the next day and Paine was seen exchanging words with Kohli until umpire Chris Gaffaney interfered and asked the captains to cool down and 'just play the game'. 
It went on while India was batting as well when Paine was heard asking Murali Vijay how he likes Kohli as a bloke.
❄️❄️❄️

It was frosty between Tim Paine and Virat Kohli at the end! https://t.co/Xmn2akfpAT pic.twitter.com/ka1NR5QoEP

— Fox Cricket (@FoxCricket) December 18, 2018
Kohli was asked about the confrontation with his Australian counterpart and if it was right or not and he said that as long as the 'line' isn't crossed, it is fine.
"As long as there is no swearing or personal attacks, I think the line doesn't get crossed. There is banter going on and even at Adelaide, there was little banter here and there. It is Test cricket at the end of the day and it has to be competitive. You can't say that people are not going to try and get you out in any way possible at all," Kohli said at the post-match press conference.
"With the stumps mics and cameras and all...with the bowlers bowling and you are standing at slips, you are not thinking wheater the stump mics are on or the cameras are on you or not. When you are facing a ball, there is literally no one apart from you and the ball in the stadium. So these things are actually irrelevant and it has never bothered me and has ever been of importance to me. For me it is irrelevant," he added.
Kohli also said that whatever has happened has happened and the team is now looking forward to the Boxing Day Test, which starts on December 26 at the Melbourne Cricket Ground.
"Nothing compared to 2014 to be honest. But it stays on the field, whatever happens. In competitive spirit it stays on the field and I'm not going to go into details and it is not important enough for me to speak on. It is something that is done and we are looking forward to Melbourne now and the series is poised really well and both teams have played really good cricket and people should look forward to that," the Indian captain said.
"I think he brings out the competitive spirit in a lot of people"

The two skippers have their say on the Perth verbals #AUSvIND pic.twitter.com/Axs17biHyz

— cricket.com.au (@cricketcomau) December 18, 2018
Paine also didn't seem to be too much bothered about it and said that the match was a competitive one and there is nothing too personal against Kohli.
"No I don't think we did touch to be honest. It got pretty close but it is what it is. It was a highly competitive Test match from both the teams. There is a lot on the line and both teams desperately want to win," Paine said.
"Not to me. I love it. I enjoying watching him and always have. I think he brings out the competitive spirit in a lot of people, which is great to watch and I'm sure it was great to watch," he added when asked if Kohli has become annoying.