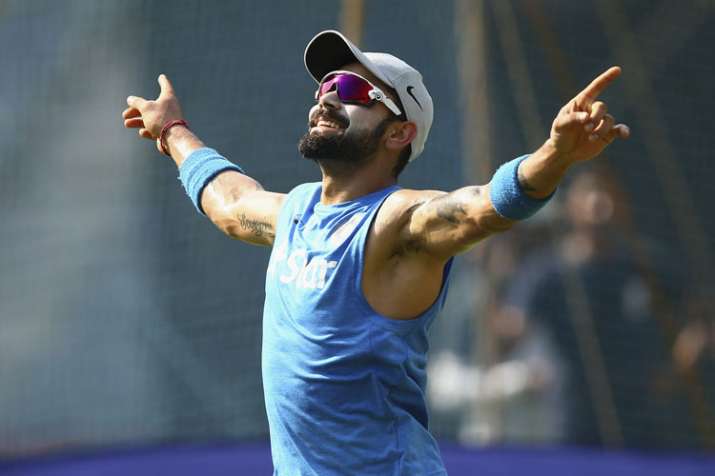 Indian cricket team captain Virat Kohli, who didn't take much time to become a worldwide sensation after breaking into the international cricket scene in 2008, revealed that despite having achieved millions of fan following and immeasurable success, there are some things he still crave for.
"It's suffocating at times," Kohli, who has played 331 matches for the national team, said in an interview to ESPN.
"On the inside, I'm still a guy from Delhi who used to chill on the streets, and I still crave that. It's a very strange feeling for me," Kohli added.
Kohli made his Team India debut in 2008. Since then, the 29-year-old batsman has accomplished a lot of fame through his skills, aggressive attitude and relentless playing style. He was a part of India's 2011 World Cup winning team and was bestowed with the player-of-the-tournament in 2014 World T20.
So far, Kohli has 35 ODI hundreds to his name, second only to India's batting legend Sachin Tendulkar (49). The biggest turning point came for the Delhi batsman in 2014, when 2011 World Cup winning captain MS Dhoni announced his unexpected retirement from Test cricket.
Kohli took the charge of the India's Test team and led by example. In January 2017, Dhoni stepped down as India's limited-overs captain ahead of the ODI series against England. Kohli, then ranked second in the ICC ODI batting rankings, became Team India captain across all formats.
After having seen this all in a photo-finish fashion, Kohli believes that the lavish hotel rooms and sky scrappers feels no less than a "royal jail".
"It's literally living in a royal jail. That's what I call our hotel rooms: royal jails. You can't do anything. I can't even think of going down to the hotel restaurant to eat. Forget going out of the hotel," he said.
However, Kohli added: "If you don't have the ability to handle it, you're gone."
The star cricketer, who doubled his fan base after he married long-time girlfriend and Bollywood actress Anushka Sharma in 2017, revealed that while enjoying their honeymoon in Finland, the newly-wed couple bumped into three Indians at a coffee shop.
"We bumped into three Indians at a coffee shop. What are the odds?"
Enjoying their holiday, the star couple requested them not to share their pictures on social media.