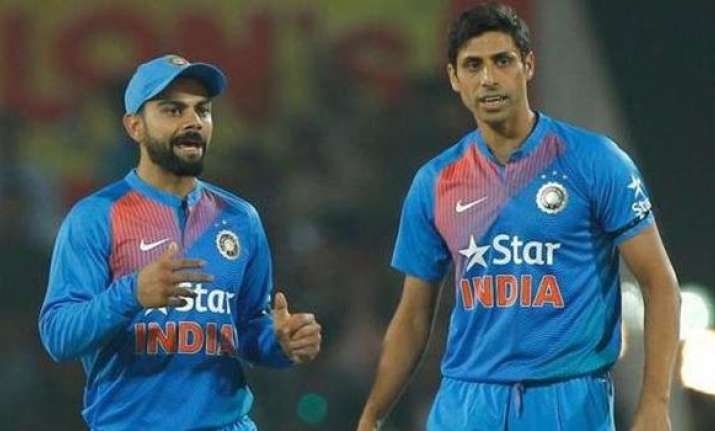 India captain Virat Kohli on Wednesday paid rich tributes to veteran pacer Ashish Nehra, who is playing his last competitive match, and lauded the 38-year-old as "one of the smartest cricketers" he has ever played with. Nehra bids adieu to cricket as he plays his last match against New Zealand in front of his home crowd at the Feroz Shah Kotla, New Delhi. Nehra was recalled for the T20I series against the Kiwis but the fast bowler made the decision to play his last and final match for India in the first T20I match of the three-match series.
This will be Nehra's final international match of his career that started way back in 1999. Nehra has had an illustrious career so far and his 6-wicket haul in the 2003 World Cup against England is one of the most remarkable and memorable feat for India which revamped his career.
Before the start of the match, Nehra was felicitated and was presented with a momento by Mahendra Singh Dhoni for his contribution to Indian cricket.
VIDEO: Ashish Nehra given a memento by the team for his remarkable contribution to Indian cricket #TeamIndiahttps://t.co/3itQO1Ov5u pic.twitter.com/orHnyu3eUB

— BCCI (@BCCI) November 1, 2017
"Nineteen years as a fast bowler is a great achievement. One of the smartest guys I've played with always loves helping youngsters. He is someone who knew what to do in specific situations. Sad to see him go but it is happening at his home ground," Kohli said. 
Earlier, Rohit Sharma, Shikhar Dhawan, Ajinkya Rahane, Dinesh Karthik and Bhuvneshwar Kumar took the opportunity to share their memories of Nehra. 
(With PTI Inputs)