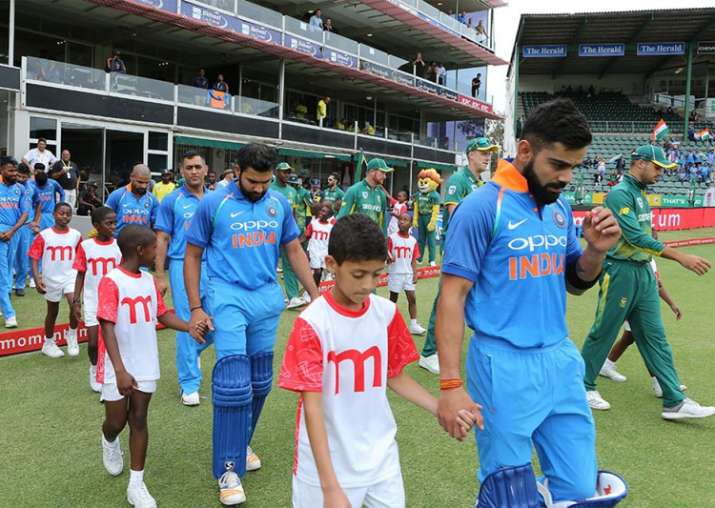 After struggling for a long time to set his feet in South Africa, India's vice-captain Rohit Sharma finally found rhythm in the fifth ODI, scoring an impressive 115-run knock to help the visitors beat Proteas at the St. George's Park, Port Elizabeth, on Tuesday, to clinch the six-match series, with a match to go.
Another opener Shikhar Dhawan, who is riding great form currently, lost his wicket early on Tuesday and gave a Rohit a chance to find his ground alongside skipper Virat Kohli. For the first time in the series, both the captain and the vice-captain batted together but it resulted in a miserable run-out. 
A misjudged running caused Kohli lose his wicket in Port Elizabeth. He managed to contribute 36 runs, a bit more than Dhawan (34) and now the onus was on Rohit. The 30-year-old Maharashtra batsman didn't disappoint and went on score his 17th ODI ton after being dropped on 96.
In his 126-ball measured knock, Rohit slammed 11 boundaries and four sixes to help India post 274/7 even after the lower order failed to capitalise on a brilliant start. With this, he became the fourth highest century scorer in ODIs for India, after Sachin Tendulkar (49), Virat Kohli (34) and Sourav Ganguly (22).
A look back at the Rohit's career proves that captain Kohli is extremely lucky for him, especially when the Delhi batsman goes run-out or off the field for other reasons.
Five times when Rohit Sharma scored impressive knocks after getting Virat Kohli run-out
57 vs West Indies
Even though it wasn't a century-knock, Rohit's 57 came after causing Kohli's run-out in an ODI match against West Indies at Kingston in 2011. The India skipper was missed out on an ODI hundred as he was run-out for 94 runs. India lost the match by seven wickets but managed to claim the  5-match series 3-2.
209 vs Australia
In the backdrop of Rohit's first ODI double-century at Bengaluru in 2013, Kohli was run-out for the duck while batting along with the Indian opener. The opener scored 209 runs off 158 balls to propel India to a 57-run win over mighty Australians.   
264 vs Sri Lanka
During Sri Lanka's tour of India in 2014, Rohit took up the mark further after scoring a 264-run knock in an ODI match. Again, he capitalised on Kohli's run-out, who had to return to the pavilion for 66 runs. India won the match by 153 runs and registered a clean sweep 5-0 series win against the Lankans.
124 vs Australia
During an ODI match against Australia in 2016, Rohit got a taste of his own medicine when he got run-out after causing Kohli's run-out. While Kohli managed to score 59 runs, Rohit lost his wicket after scoring 124 runs, with 11 boundaries and three sixes.
115 vs South Africa
In the most recent, Kohli got run-out for mere 36 runs in the fifth ODI against South Africa, thanks to Rohit who went on to score an impressive 115-run knock at St. George's Park. With the virtue of this win, India registered their first ever series win in South Africa and leapfrogged Proteas to top the ICC ODI team rankings. 
In addition to this, Rohit scored his third double-century also in the absence of Kohli. It came on December 13, when Kohli was absent from the team for tying the knot with longtime girlfriend Anushka Sharma on December 11. Leading Team India in his absence, Rohit scored 208 runs off 153 balls and graced them with 13 boundaries and 12 sixes.
In all, Kohli and Rohit have involved in a run-out seven times, out of which the former was dismissed five times while Rohit lost his wicket twice.