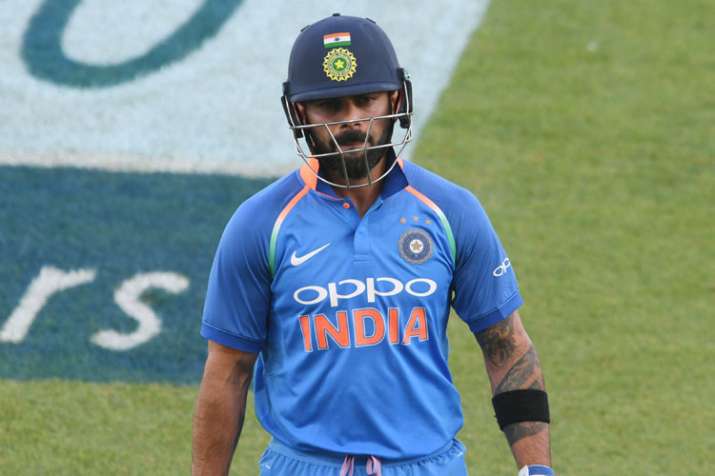 Team India skipper Virat Kohli opened up on the much-debated topic of Rishabh Pant versus Dinesh Karthik for the 2019 World Cup in England and Wales.
When the team was announced, the selectors went with the experienced head in Karthik and said that he would only play if Mahendra Singh Dhoni is injured.
People still couldn't take the fact that Pant is not being taken to the World Cup ahead of Karthik especially after the wicket-keeper batsman's fine show in the IPL, where he scored 488 runs from 16 games compared to Karthik's 253 from 14 matches.
Even former India captain and Delhi Capitals advisor Sourav Ganguly came out and said that India will miss Pant in the World Cup, which is starting on May 30.
"India will miss Pant in the World Cup. I don't know in whose place but he will be missed," Ganguly told reporters at Eden Gardens. 
However, Kohli clarified it once and for all that Karthik's selection came on the basis of handling tough situations better and experience.
"In pressure situations, he's shown composure. It was something that everybody on board was convinced about. He has the experience. If god forbid, something happens to MS (Dhoni), Karthik can be immensely valuable behind the wickets. As a finisher, he's done well," Kohli told the Times of India.
"So, it was the overall exposure to a tournament of this magnitude that was taken into primary consideration," he added.
Karthik or Pant was also being looked at a possible No.4 player but ultimately it was Tamil Nadu all-rounder Vijay Shankar, who sealed the place but Team India coach Ravi Shastri kept it open and said that it will be horses for courses.
We are a flexible team. It's horses for courses, we have got enough ammunition. We have got enough players who can bat at 4. So, I am not really worried about that," Shastri told CricketNext in an interview earlier.
"I think we have got all bases covered. Last thing you want is passengers on the tour. You want to have in those 15 players ... who can play anytime, at any given time.
India will fly off to the UK next week and will play their first game against South Africa on June 5 at the Rose Bowl Cricket Ground.