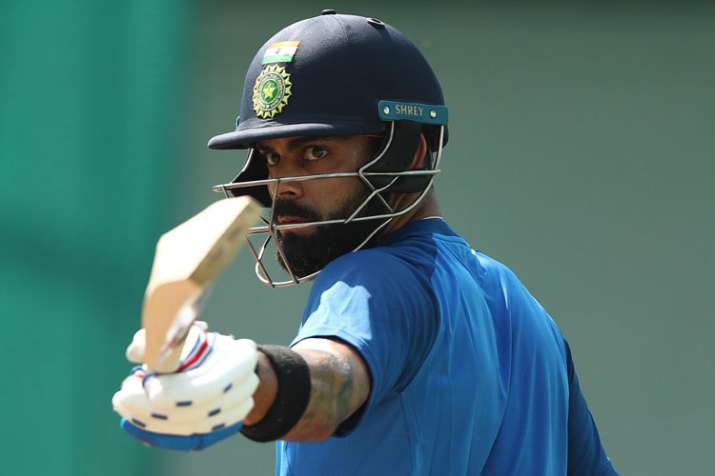 Team India captain on Thursday responded to England new boy Jofra Archer's remarks of getting Kohli out being Archer's main target in this year's World Cup as the captain's gathered for the captain's media day in London ahead of the 2019 World Cup.
Archer, who had been sensational in the last two IPLs and was recently added to England's final 15-member squad for the World Cup, was absolutely stoked about making the squad and said that getting the wicket of Kohli would be a great achievement.
"I'd quite like to get Virat Kohli out because I wasn't able to in the IPL," Archer told Sky Sports.
"Chris Gayle as well," added Archer, mentioning the big-hitting West Indies batsman.
And, when Kohli was asked on Thursday about the same, he said that he had no idea about Archer's remarks but it was a big compliment.
"We don't really focus on these things because the individual you really don't focus on who wants to get you out or you are being spoken about more. Our focus is mainly to contribute to the team best way possible and I take a lot of pride in performing for the team and making impact performances every game. So, if Jofra said that, it is a big compliment because he himself is a world class bowler and the way he has come about in the IPL the last couple of years and all around the world, there is a good reason as to why he has been fast-tracked into playing for England in a tournament like the World Cup," Kohli said.
He went on to complement the 24-year-old pacer and said that Archer is England's 'X-factor' and he will be closely monitored by Kohli himself.
"I think he is probably going to be their X-Factor because he holds a skillset which is probably different from everybody else. He can generate a lot of pace which can be intimidating. You don't expect that because of his run-up but the way he is built...he is a great athlete and I'm sure the England team is pretty delighted to have him and he is going to be pretty exciting to watch in the World Cup and I personally would be watching his bowling as well," Kohli said.
India will play two warm-up games against New Zealand on May 25 and Bangladesh on May 28 before they play their first match against South Africa on June 5 and when asked if they feel the pressure, he said: "We have both our warm-up games televised already. Not much pressure on the team wherever we play. There is always going to be a huge fanbase around the world wherever we play but yes...England in their home conditions is probably the most strong side in the tournament but all 10 teams are so balanced and strong and with this being a tournament where we play every team once makes it all the more challenging and that's going to be the best thing about the tournament."
The 30-year-old also said that it should be a high scoring tournament and England are the favourites to breach the 500-run mark in an innings but as the tournament progresses, the runs will dry down.
"I was just waiting to see what these boys [England] do because they seem to be obsessed about getting to 500 before anyone else. They just come and smash from ball one to fifty overs. So, this could be pretty high scoring but look 260-270 is going to be as difficult to get in a World Cup as 370-380. I don't see many high-scoring games happening at the latter half of the tournament but yeah...initially, teams can get on a roll but you will see 250 defended as well. That's the kind of pressure the World Cup brings."
"It depends because not all the teams are going to be in a great position. There will be teams that will have to make sure that they get a result. So they are going to be under pressure to chase even a small score down. In pressure games in a World Cup, you might get a team that gets on a roll but I think both teams would like to start in a balanced way and find their way into the game and look to capitalise when the moment comes," Kohli explained.
When asked about the India-Pakistan game on June 16 in Manchester being the headliner, he said that there is pressure initially but when the players enter the ground, it is all about winning the game.
"India-Pakistan is always a very anticipated match. We keep saying this again and again that if you ask the players, it is very different from how they see the game from the fans. Yes, you feel the anticipation and the excitement of the fans when you enter the stadium but as soon as you step on to the field it's professional with the bowlers trying to execute his skills and the batsman trying to execute his skills to the best of their potential. For us, it is just another game you need to win as a team," Kohli said.