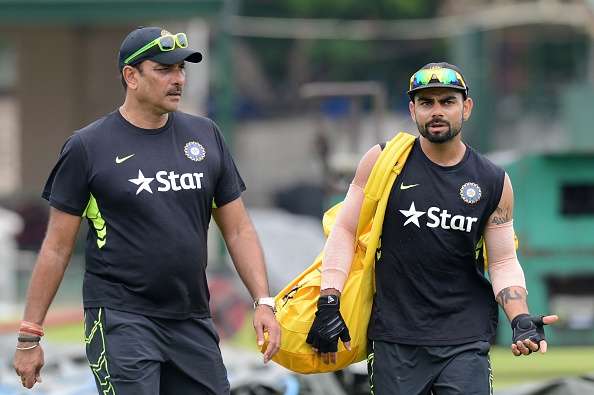 India captain Virat Kohli on Wednesday said there will be no added pressure on him when the team embarks on the Sri Lanka tour and that he expects a smooth working equation with the new head coach Ravi Shastri. Kohli said he and Shastri have worked together in the past and have a fair understanding of each other's nature.
Kohli and Shastri spoke to the media before the team's departure for the tour of Sri Lanka -- featuring three Tests, five ODIs and a Twenty20 starting July 26. The Indian captain, for the first time, shared his views on Shastri's appointment. Shastri, who had earlier served as Team Director between 2014 and 2016, replaced Anil Kumble as the head coach after the legendary leg-spinner decided to step down from the post citing a breakdown in relationship with Kohli as the reason behind his exit.
"We have worked together in the last three years. I don't think I need to understand anything else. We have worked before, we know what's expected and what's on the plate. I don't think it will require any effort," Kohli said.
Kohli said he will not be under any extra pressure due to the turn of events in the past few weeks.
"I don't think there is any added pressure. As a team we aspire to achieve. Everyone has faced hard times. I don't take any added pressure. I continue to take responsibility till the time I am captain. You just need to take care of your mindset," he said.
Meanwhile, Shastri said the credit for the team's performance should always be given to the players as coaches will come and go but the 'fabric of Indian cricket will remain'.
"I have matured immensely. I don't carry any baggage. The credit should go to everyone who has participated in this team over the last two-three years. If they are No.1 today, it is because of the efforts that have put in those three years and they deserve the credit. People like us will come and go," Shastri said.