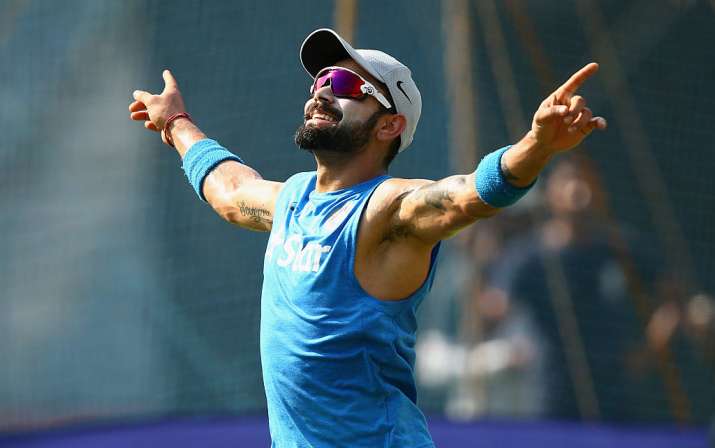 The sky seems to be the limit right now for India captain Virat Kohli. The 28-year-old has now been ranked above star Argentina and Barcelona footballer Lionel Messi in the Forbes list of most valuable brands among athletes.
Kohli, who is the world's no.1 ranked T20I batsman at the moment, is ranked seventh on the list, ahead of former world no.1 golfer Rory McIlroy, Messi and Golden State Warriors' Stephen Curry.
Kohli's value has been pegged at 14.5 million USD while McIlroy is ranked number eighth with value of a 13.6 million USD. Meanwhile, Messi has been ranked ninth with a value of 13.5 million USD and Curry is at no.10 with 13.4 million USD.
The number one spot has been grabbed by Swiss tennis star Roger Federer, who is valued at 37.2 million USD. NBA star LeBron James is at no.2 with a value of 33.4 million USD, followed by Jamaican sprinter and Olympic Gold medallist Usain Bolt (27 million USD). 
Portugal and Real Madrid star Cristiano Ronaldo, who recently won the FIFA best player of the year award for the fifth time, has been ranked no.4 with a total value of 21.5 million USD.
American golfers Phil Mickelson (19.6 million USD) and Tiger Woods (16.6 million USD) have been ranked no.5 and no.6, respectively.
Top 10 most valuable athletes:
1. Roger Federer $37.2m
2. LeBron James $33.4m
3. Usain Bolt $27m
4. Cristiano Ronaldo $21.5m
5. Phil Mickelson $19.6m
6. Tiger Woods $16.6m
7. Virat Kohli $14.5m
8. Rory McIlroy $13.6m
9. Lionel Messi $13.5m
10. Stephen Curry $13.4m