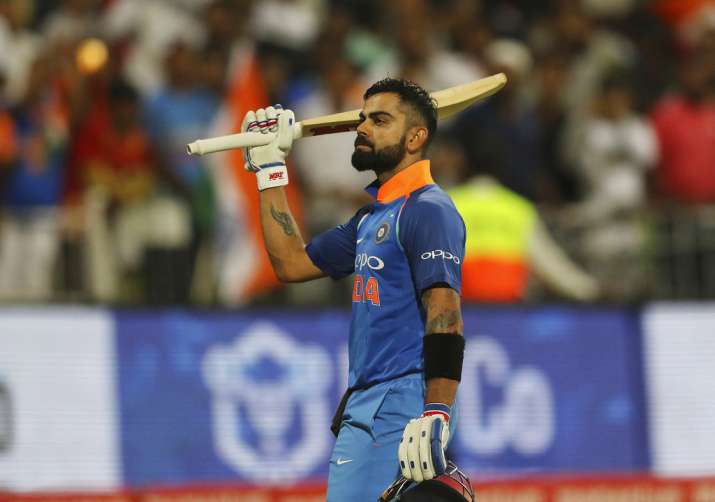 Former Pakistan captain and legendary batsman Javed Miandad has lauded Virat Kohli after the Indian captain slammed his 34th one-day international hundred in the third ODI against South Africa on Wednesday. Continuing with his scoring spree, Kohli hammered an unbeaten 160 to lay the platform for India's 124-run victory which enabled the visitors to take an unassailable 3-0 lead in the six-match series.
Kohli is now just 15 short of little master Sachin Tendulkar's record of 49 ODI hundreds.
Miandad praised Kohli's technique and termed him "a genius who is the best batsman in the world".
"In Virat Kohli's case his batting method is what allows him to score runs not just once but almost every time he comes in to bat. If a batsman's technique is bad, he can put some runs on the board once in a while, but he will not be able to do that consistently which is exactly true in Kohli's case. 
"To me the mark of a great batsman, like Kohli is the fact that he can vary his technique by quickly understanding the strengths and weaknesses of the bowlers. Kohli is a genius who is the best batsman in the world," said Miandad told Pakpassion.net.
Miandad, who has never failed to mince his words, was also vocal about the current state of cricket in Pakistan. Citing the example of Pakistan loss to India in the semi-final of the recently-concluded ICC U-19 World Cup, Miandad said there's no dearth of talent in Pakistan but the country lacks a proper support system. 
"The loss to India in the ICC Under-19 World Cup was by a big margin of 203 runs which is hard to take but if truth be told, our team was lucky to have progressed that far given the inexperience of our players. Of course, victory and defeat are part of any sport, but we need to accept that there was a huge difference in terms of skills between both teams. India is a huge country with a bigger population than Pakistan, yet our players are able to challenge India in cricket which tells me that we have the potential, but we simply do not have the system that can support and get the best out of that potential," Miandad, who scored 7,381 runs in 233 ODIs.
"From the lack of good training facilities to sub-standard wickets, the problems that our youngsters face in playing cricket are just indescribable. We have children starting to play cricket in side streets instead of learning their game in proper grounds. When people understand how our kids learn their cricket, then they will understand the reason for our current cricketing issues. I am sorry, but the present-day authorities due to their unprofessional behaviour have destroyed the system that used to produce teams which could beat the top teams of the world like the West Indies at a time when they were unbeatable," he added.