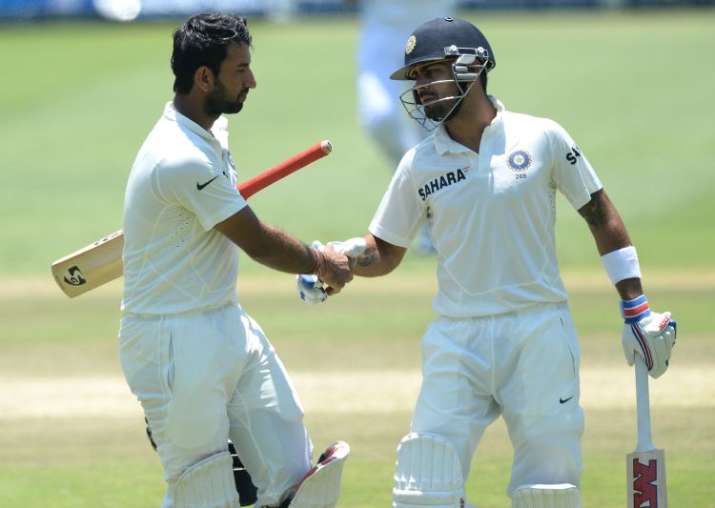 Following a dominant 2-0 T20I series win in Ireland, Virat Kohli-led India will go stronger in England for the two-month long series that includes three T20Is, as many ODIs and five Tests, feel former India captain Sourav Ganguly and former opener Virender Sehwag. The exciting yet lengthy series will begin on Tuesday with the opening T20I at the Old Trafford, Manchester.
 
Speaking exclusively to IndiaTV on the show 'Cricket Ki Baat', the former India teammates predicted India's chances in England and spoke on Kohli's performance in conditions where he failed miserably in 2014 and suggested a few strategies ahead of the team's tough outing. (Watch: Sehwag's gesture of respect floors Ganguly)
 
When India last toured England in 2014, they suffered a 3-1 defeat in the five-match Test series, before clinching the five-match ODI series 3-1 and losing the only T20I by three runs.
 
Kohli had a harrowing time on the last tour as he managed to score just 134 runs in five Test matches at a dismal batting average of 13.40. The 29-year-old batsman's performance has not been up to the mark in England in the limited-over format too, as he has made 291 and 70 runs in 10 ODIs and two T20Is, respectively.
 
However, both Ganguly and Sehwag believe India will have a fair chance of winning a Test series in England this time and Kohli will lead his team from the front.
 
Sehwag predicated the five-match Test series "3-2 or 3-1 in the favour of India". However, Ganguly joined in, saying: "It won't be that easy. I don't predict much, but if India play well, it will be some fantastic cricket to witness if they play well." (Read: Kohli-led Indian team has potential to win Test series in England, says Ganguly)
 
The former India captain didn't hesitate when he said: "For me, the series belongs to Virat Kohli." However, Sehwag rated Pujara over Kohli, claiming that the County experience will help him more than any other batsman in England. "I think it will be Pujara who will score the most runs. He's been playing County cricket for over 2-3 years now and must be having a fair idea."
Sehwag said he hasn't played a five-match Test series in his career but he knows how important the role of fitness in such a lengthy assignment is. "I have never played a five-match Test series, Dada must have played. Four was more than enough for me. A five-match series checks a player's fitness. As a bowler, if you play all five Tests, it's a big deal and a huge challenge for the Indian team. Also, you get a chance to make a comeback, if you're 2-0 down, you still have three Tests to make up for it."  
Ganguly was of the opinion that playing three T20Is and as many ODIs will be beneficial for the Indian team. "Before the Tests, they have the shorter format of the game and I feel, that whoever is in form, should play. Look at the current scenario when Australia got hammered by England and you wonder about the bowling unit, which includes players such as Starc, Hazlewood,
Pat Cummins
, why were they not given a chance in the limited overs format.  
"Glen Mcgrath played Tests and ODIs, Wasim Akram and Shaun Pollock also played both the formats. I disagree with the new system where they rest players for different formats. You're playing a game changing series, and if your players are in form, you should play them. I understand that five Tests are quite a lot and for the bowlers it will be tiring, but you shouldn't go with the mindset that you will rest this player after two or three Tests," he continued.  
Echoing Ganguly's thoughts on dealing with pain and niggles during a five-match Test series, Sehwag added: "I agree with dada on this. If a player has a niggle and is in form, he should play. Ganguly has done it many times, he has played bowlers with pain and niggles during matches. Sometimes as a skipper, you have to play your best players in important matches despite the pain. Rotation policy is necessary, if a player has not performed well, he can be replaced."  
Talking about the opening pair, both the veterans were on the same page for
Murali Vijay
. However, they came up with contrasting opinions for the second opener in
Shikhar Dhawan
and
KL Rahul
.  
"Murali Vijay and Shikhar Dhawan should open for India because they're performing well together. The criteria to keep a player and drop a person should be applied for each player. Dada may not agree with me as he wants the in-form players to keep playing," Sehwag said.  
Ganguly compared Dhawan with Rahul on the basis of their overseas performances and opined: "Look, Kohli has travelled all over the world and has scored runs. But Dhawan has not yet scored a century neither big runs in the Tests he has played abroad. He can smash in the sub-continent, but not outside. That's why after every one or two Tests, he is dropped. But if you look at KL Rahul, in Sydney Australia he has a hundred, in Barbados West Indies he has a hundred. He's been in and out of the team, but I think, KL Rahul and Murali Vijay should open."  
India's wrist spinners
Kuldeep Yadav
and
Yuzvendra Chahal
, who have become an integral part of the team in a very short time, continued their good form in Dublin. Both Ganguly and Sehwag heaped praises on the young spinners, adding that they deserve a chance in the longest-format as well.  
"You can play Ashwin and a wrist spinner. Be it Chahal or Kulddep, you need a wrist spinner. Jadeja is quite predictable. Ashwin is way more experienced than Jadeja on this one. He can bat as well, he has four hundreds to his name in Test cricket and suits the position of number 7 in the order. If you have five bowlers, three pacers and two spinners, Ashwin should play with a wrist spinner," Sehwag said.  
Ganguly joined in, saying: "Ashiwn has over 300 Test wickets and he isn't a bad skipper as well. The variation he recently brought on was for T20 cricket. You bring in competition and I believe Kuldeep is that player who can bring that. After their performance in the limited-overs format in the South Africa tour, it will constantly be behind the skipper's mind whether to play these two or not."  
According to Ganguly, India can only win the Test series if Kohli manages to score big runs. Other prominent batsmen in the line-up such as Pujara, Vijay and Rahane will be next in the queue to make the difference in England, opined the 45-year-old.  
"India will win the Test series if Virat Kohli scores runs. If he doesn't, it will be a huge gap in the team. Pujara has struggled quite a bit as well in Tests despite doing well in County. Murali can hit all over the place such as South Africa and Australia. For me, Kohli, Murali and
Ajinkya Rahane
can make the difference cause they have scored runs. Pujara's form outside is less than average. I'm not saying he is a bad cricketer, but it's time where everyone contributes," he added.  
Both the legendary batsmen emphasised that Indian batters will have to be watchful against England's formidable bowling line-up, which boasts of Stuart Broad, James Anderson and
Moeen Ali
.  
"I think their bowling is pretty decent. They have two bowlers, Broad and Anderson, who can make an impact. If they don't collect wickets, England don't have a third they can rely on," Sehwag said.  
"When India last toured England, it was Moeen Ali who took the most wickets. In four Tests, he took 30 wickets along with Anderson. The pacers apply the pressure and when the spinners come on, they can cause trouble and that's what India have to 
keep in mind," Ganguly concluded.