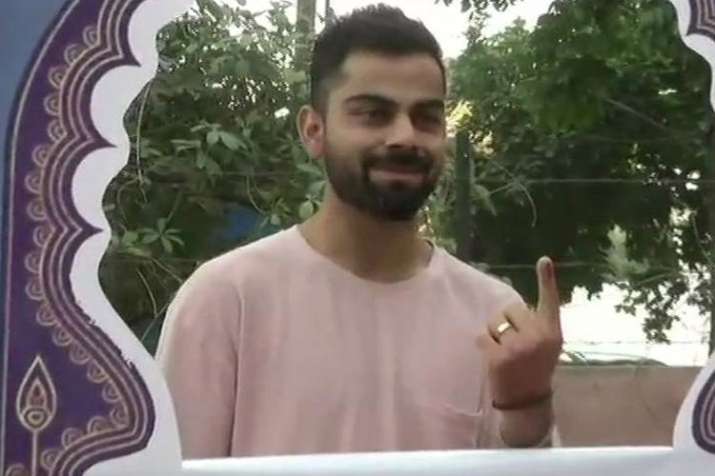 Indian cricket team captain Virat Kohli cast his vote early on Sunday morning at a polling booth in Gurugram.
Kohli also appealed to voters to exercise their right.
The 31-year-old was seen standing in a long queue to wait for his turn to cast the vote.
"Everyone should come and vote and I urge to all," he said.
Donning casual clothes, he came to the polling booth along with his brother. Kohli also signed some autographs on fans' request.
Kohli also stood behind a cutout installed at the polling booth for voter awareness programme for a photo, after being asked by the booth volunteer.
All the 10 Lok Sabha seats of Haryana went to the polls amid heightened security in the penultimate phase of general elections.
In the sixth phase of Lok Sabha election, it is reported that over 22 lakh voters will decide the fate of 24 candidates of 10 constituencies in Haryana.
Earlier, Haryana Minister Kavita Jain and her husband were among the first to cast their ballots at a polling booth in Sonipat on Sunday as voting for the 10 Lok Sabha seats in the state was underway.
The state minister and her husband Rajiv Jain, who is the media adviser to Chief Minister Manohar Lal Khattar, reached the polling booth much ahead of the start of polling at 7 a.m.
(With IANS inputs)