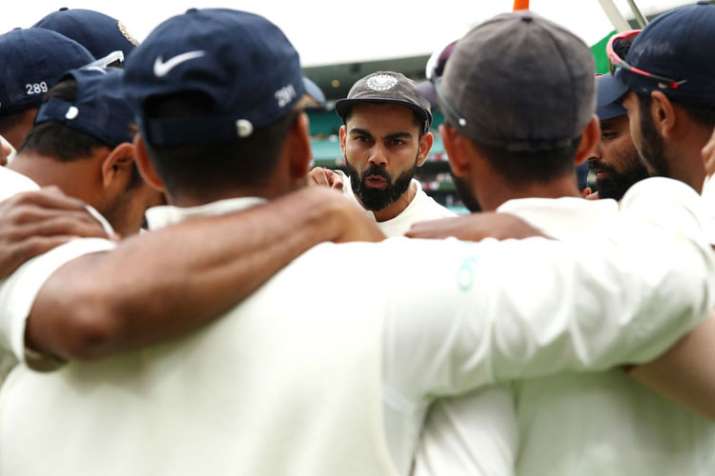 After defeating Australia 2-1 on their soil, Indian skipper Virat Kohli gave some important advice to the Australian team regarding the upcoming Ashes series in England, starting August 1 at Edgbaston.
In the recently concluded Test series, the Aussie batsmen failed miserably against the fierce Indian bowling attack. Not a single batter from the home team scored a century in the four-match Test series.
And, Kohli now has some advice for the Australians.
Kohli, who tackled the English bowling attack on his own in the 2018 Test series, gave the Kangaroos some key pointers to take care of while facing bowlers like James Anderson and Stuart Broad in swinging conditions.
"If you go out there with an ego, you might as well not go at all. Because that Dukes ball, it buries egos pretty quickly." 
"You have to curb yourself down and do the hard yards. Grind it out the whole day … you have to be patient as a batsman," Kohli said.
Kohli who had a poor outing in 2014 tour of England was the most successful batsman in India's tour of Enggland last year and also received the Man-of-the-Series accolade despite the visitors losing the series 4-1.
"There's lot of time in Test cricket. But sometimes we are so nervous as batsmen, we don't quite realise it. You just want to get away quickly but in England, you're not allowed to do that. 
So, you have to buy your time. And you have to earn the right to score runs eventually. But you have to get into a position where you should not even look at the scoreboard to see the number of balls," said Indian skipper.
"It's inconsequential; patience is the only thing works there and putting runs on the board again is the most important thing to win Test matches," Kohli added.
The Australian team will look to retain the coveted urn and are likely to be boosted with the return of their key players David Warner and Steve Smith as their ban for the ball-tampering scandal comes to an end in March this year.