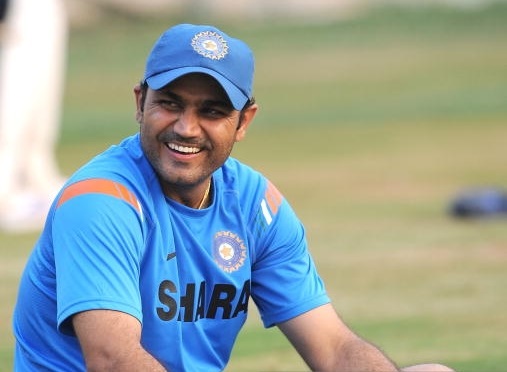 Former Indian explosive batsman Virender Sehwag, who loves trolling cricketers and fans in his own unique, witty way, turns 38 today.
Virender Sehwag, popularly known as 'Viru' among the cricket fans, has scored centuries on 23 occasions in Test cricket and in 15 One Day International (ODI) matches. 
'Viru' may have stepped off the cricket pitch a quite while ago, but his comments on social media, especially on Twitter, are making headlines every other day.
 On this special day let's look at Sehwag's best tweets so far:
The epic one happened recently after British journalist Piers Morgan got trolled on Twitter while trying to correct Sehwag's grammar on his tweet after India defeated England in the ongoing Kabaddi World Cup 
England loose in a World Cup again.Only the sport changes.This time it's Kabaddi.
India thrash them 69-18.All the best for semis
#INDvENG

— Virender Sehwag (@virendersehwag) October 18, 2016
It's 'lose'. https://t.co/QAiUHfI2ft

— Piers Morgan (@piersmorgan) October 18, 2016
After Morgan's reply on Sehwag's tweet, Twitter was flooded with hilarious replies to his comment. Here are a few.
@virendersehwag Viru paaji you kept an Englishman as a spell checker? Wow! 😂

— Prathamesh Shende (@Pratz2106) October 18, 2016
.@piersmorgan English players were so "loose" on ground so that they lost the game @virendersehwag https://t.co/ysX6A4GAPp

— PK (@naam_pk) October 18, 2016
During the Rio Olympics Games, Sehwag took a jibe at author Shobhaa De after she mocked Indian Olympians saying they just go there to click selfies. Shewag posted a picture of Sakshi Malik who won the bronze medal and tweeted: 
#SakshiMalik ke gale me medal kitna "Sobha De" raha hai na !!! #HappyRakshaBandhan pic.twitter.com/5qnN0tbD4y

— CricShots (@cric_shots) August 18, 2016
And, another one when he used a Gabbar Singh dialogue from Sholay to describe how women athletes took the Rio Olympics by storm
Array O Sambha,
Olympic me Bharat ki betiyaan itna naam Roshan kar rahi hain,
yeh #IndvsWI test mein Score Kya hua? pic.twitter.com/xr9ugDw4I4

— Virender Sehwag (@virendersehwag) August 18, 2016
The tweets when he praised Indian female athletes and their success at the Olympics
Poora Bharat is baat ka Sakshi hai,jab koi bht mushkil ho toh is desh ki ladkiyan hi Malik hain.Thank U#SakshiMalik pic.twitter.com/YfHgRqxwTM

— Virender Sehwag (@virendersehwag) August 18, 2016
Japani madam ji ko kisine pehele hi nahi samjhaya #BhartiyaNaariSabPeBhaari ? Aur Lo Panga #PVSindhu #Gold pic.twitter.com/GVOnUqALHh

— Virender Sehwag (@virendersehwag) August 18, 2016
Bharat me sabji laane Se leke,
School Se bachcon ko lane Se leke,
Ghar/compny chlane Se leke,
Medal lane tak,ladkiyon ko hi jana pad rha hai

— Virender Sehwag (@virendersehwag) August 19, 2016
Hpy Bdy Lasith Malinga,urf #YorkerBaba Bowling ws like sitolia.If utensil cleaning juna is nt there,cn use his hair pic.twitter.com/ewfMFkP9qr

— Virender Sehwag (@virendersehwag) August 28, 2016
Pic 1- Don
Pic 2- Bread
Pic 3- Man
Hpy Birthday Don Bradman, the greatest that could ever have been#BradmanJayanti pic.twitter.com/guETL76xiW

— Virender Sehwag (@virendersehwag) August 27, 2016