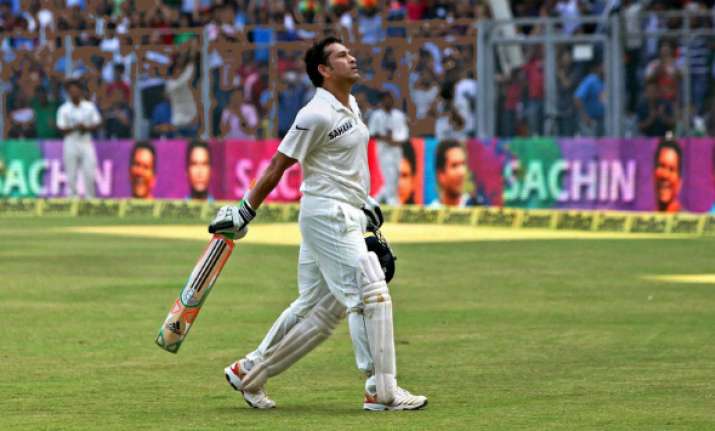 "Beneath the helmet, under that unruly curly hair, inside the cranium, there is something we don't know, something beyond scientific measure. Something that allows him to soar, to roam a territory of sport that, forget us, even those who are gifted enough to play alongside him cannot even fathom. When he goes out to bat, people switch on their television sets and switch off their lives- BBC Sports on Sachin Tendulkar."
The nation of 1.25 billion stopped breathing, the time stood still, everything comes to a halt - when the 'Sachin Tendulkar' decided to say goodbye to the sport which many of us started following because he was a part of it. On this day on November 16, 2013, Sachin Tendulkar played his last international match for India against West Indies at his home ground in Mumbai at Wankhede stadium which becomes the part of the history as the nation's most beloved son bid adieu to the gentlemen's game. 
 Regarded as one of the greatest-ever batsmen to have played the game - Sachin Tendulkar was not just a name, he was a phenomenon which gave us infinite moments of joy and euphoria in his extraordinary career that lasted for 24 marathon years.
After four long years of his retirement, an ardent cricket follower still searches for the next Tendulkar and prays for a miracle to get to see a glimpse of his favourite god on that 22-yard strip. For over two long decades, the master blaster patiently answered all the prayers of his deities and even fulfilled the unreasonable expectations of his fans without a complaint.
In his last Test innings, Sachin scored a brilliant knock of 74 that included 12 magical boundaries, the master spent 150 minutes at the crease. For the last time, he once again showed his trademark cover drives, paddle sweep and square drives which have enthralled the cricket fans world over for more than two decades.
India won the match by an innings and 126 runs, and the series 2-0, but that was reduced to a mere footnote. Tendulkar was given a grand guard of honour, the legend was in tears as his teammates kept the guard up until he had reached the dressing-room.
What followed was the famous farewell speech that left an entire country in tears. Sachin walked back to pay his respects to the Wankhede pitch and touched the surface which brought him laurels in his mind-boggling career.