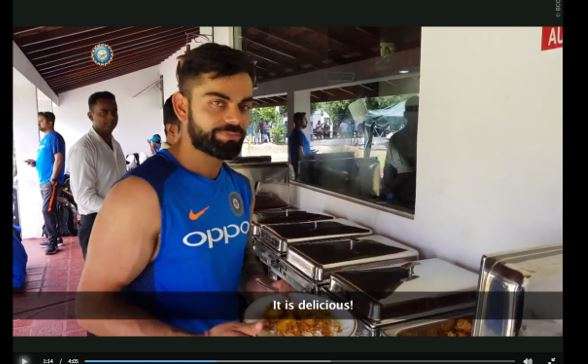 Team India is currently on a tour to Sri Lanka for three-match Test series, five one-day internationals and one-off T20I starting from July 26 in Galle. Coming back from a short break after their West Indies tour, the Indian cricket team is once again putting in the hard yards on the field to reinstate their domination in world cricket in all three formats. Known for their thoroughly professional on-field approach, Indian cricketers are widely hailed for their tough fitness regime and healthy lifestyle which has become the new mantra for Virat Kohli's men.
In a video released by the BCCI on the sidelines of the practice game between India and Sri Lanka's Board President XI, the Indian team gave their fans a glimpse into their regular eating habits including their likes and dislikes.
The video also shows skipper Virat Kohli's fondness for 'home style chicken curry' along with some gluten-free rice, which he says is high in protein and is good for health. The 28-year old also stressed about the importance of having carbohydrates and some oil in the diet which provide energy to tackle tough Sri Lankan conditions which are high on humidity.
WATCH the video here:- 
Virat is known to maintain top fitness level and is someone who has raised the bar in terms of achieving great physical and mental stamina.  The five-minute long video starts with all-rounder Hardik Pandya joking about Sri Lanka's taxing conditions, quipping 'it's freezing here', while he eats curd and rice to cool himself down. 
Team India pace bowling duo of Bhuvneshwar Kumar and Umesh Yadav also featured in the video but they seemed to have contrasting styles in their eating habits. Bhvi prefers the modest combination of curd rice and dal. Whereas, the burly fast bowler - Umesh Yadav is seen having a chicken curry with naan. 
Another incredibly fit cricketer - Ravindra Jadeja who is known as a livewire on the cricket field seems content with testing out the local speciality, a Sri Lankan soup whose name he fails to recall.
Team India's Strength and Conditioning Coach - Shanker Basu also features in the video and spoke about how the side have brought in a 'fifth-dimension' to their game. 
He said: "This Indian cricket team has brought in the fifth dimension. It all started with playing the game - batting, bowling and fielding - fitness being a part of it. Now the players have embraced fitness and lifestyle which reflects on the buffet spread here.
"They are extremely aware and well educated on what to have as a proper meal intake and what not to have.
"They are proper professionals and the fifth dimension is here to stay. That is the name of the game now. The macro and micro nutrients, the timing of the meals, supplements and what not has become the game-changer here. It's gung-ho time here."
The fun video ends with India's No.3 specialist Cheteshwar Pujara enjoying a glass of coconut water and enjoying his own company in the challenging Sri Lankan conditions.