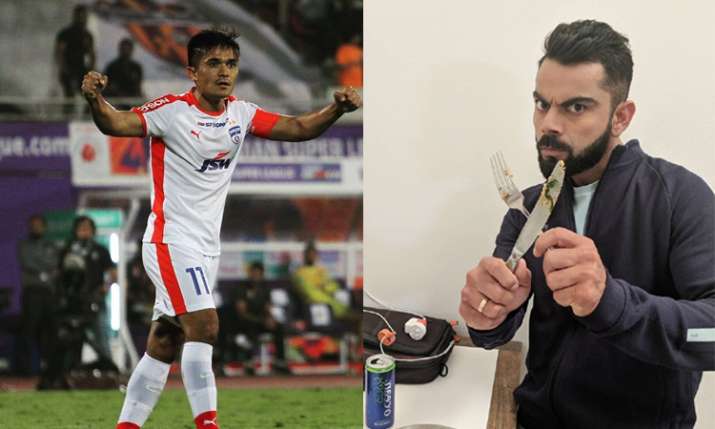 Team India captain Virat Kohli made a special change in his lifestyle when he turned vegan last year to work more on his fitness. 
Now the national football team captain Sunil Chhetri shared an interesting story on how he reacted when he met Kohli over lunch.
In an exclusive interview with The Times of India, Chhetri revealed how he made fun of the ICC Cricketer of the Year after seeing him order his food.
"I did chat with him about that. He turned one almost six months back. I used to make fun of him. One of the things we did for Star Sports, he ordered for some idli and I asked him what was wrong with him.
"His wife is also a vegetarian. It is not easy to do what he is doing. What Virat is doing is unbelievable. He is also different from others in person. What he eats, how he trains, he is different from others," he added.
Chhetri, who himself turned into a vegan shared his equation with Kohli and said they are very much in touch. As Kohli is a football fan also, most of their conversations involve football and the fitness part.
"Yes (when asked if Virat is in touch with him regularly). Most of our chats are about football, diet — I don't know whether he has announced it, but he is vegan now. I am also vegan now. It is great, it is a good feeling. I didn't start because of love for animals. Because after eating 2000 lambs I can't say that. (But at my age) It helps in recovery," Chhetri was quoted as saying, said Chhetri.
Right now Kohli is taking some rest from the game and enjoying quality time with his wife Anushka Sharma on vacation. 
India are right now leading the five-match ODI series against New Zealand, where the visitors have already clinched the series 3-1 with a game to play. 
Kohli led the team in the first three ODI's where the Men in Blue dominated the hosts while he was rested for the remaining tour.