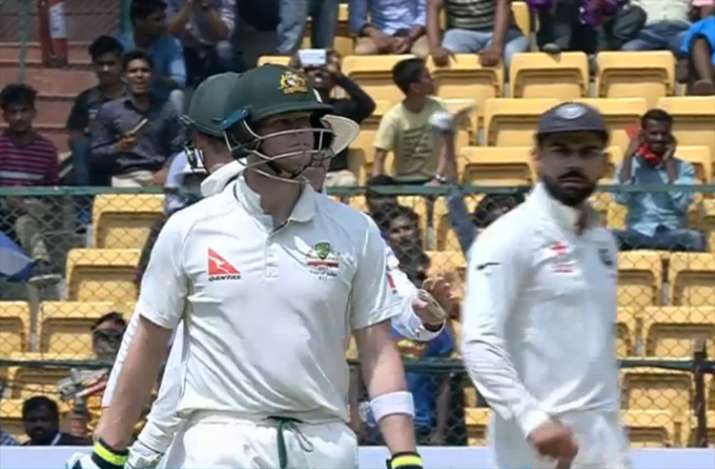 As Australian innings was looking at an imminent collapse, captain Steve Smith was trapped before wicket by Indian pacer Umesh Yadav in the 21st over. Having already blown a DRS call, involving David Warner, the Australians were in a fix on whether to go for another referral. 
Smith first turned to the non-striker's end to seek an opinion within the mandated 15 seconds. But sparks flew when the umpires noticed that the batsman had turned towards the dressing room as well to get a clue.
The on-field officials immediately intervened to stop Smith but matters came to a head when Indian skipper Virat Kohli too joined the discussion, leading to an exchange between him and the rival captain. 
Kohli might have held his emotions on the field to stop the matter escalating further but he did not held back after the match. He virtually accused Smith of cheating in the usage of DRS, flaring up the tensions between the two sides. 
"We have been inconsistent with the DRS but we take our decisions on the field, we don't ask for confirmation from the dressing room," a sarcastic Kohli let it rip after India's 75-run win in the second Test here. 
"I have seen it twice while batting. I have seen their players looking upstairs (dressing room). I told the umpires, this had to stop. I don't want to mention the word but it falls in that bracket. I would never do something like that on the cricket field," he added. 
Asked if he was accusing the Australian team of cheating, Kohli retorted, "I have not said that either." 
Rules pertaining to the usage of DRS clearly state that "signals from dressing room must not be given". 
Australian innings collapsed at 112 losing the second Test match to India by 75 runs. 
In the post-match press conference, Smith had no qualms in admitting that he made a mistake by seeking help from the dressing room but called his action a "brain fade" and something he shouldn't have done. 
"I got hit on the pad and looked towards the non-striker batsman and then turned around towards Paddy. I should not have done that. This happened for the first time. I was looking at our boys, I should not have done that. There was a bit of brain fade," Smith said at the press conference. 
But Kohli was in no mood to relent and claimed that this was not the first time the Australians had sought dressing room instructions on DRS calls. 
"I can only say, if it happens more than twice, it's not brain fade," he said. 
Smith and Kohli had a brief but charged-up exchange of words before the former walked back to the pavillion. Smith played down that exchange as well, calling it "just banter". 
"Me and Virat were having a little chat out there. There was not much in it, so it was bit of fun, a bit of banter. That is the kind of things happen in these matches. It is nice to occasionally get engaged in such conversations. It was only good fun," he said. 
Smith refused to say Kohli lost his cool and insisted game's spirit was kept intact. 
"I am not sure, I think that is the question to ask them. As far as I am concerned the game was played in good spirit. You know, emotions sometimes get better of you , but I don't think anyone crossed the line. "If emotions are kept in check it will make great contest." 
Kohli was spoken to by the umpires after Smith's departure. 
The two captains have had their fair share of run-ins during the series, frequently exchanging barbs on the ground.
Former Indian cricketer Ravi Shastri said the move by Smith is violation of rules and he could be punished for that.
"If evidence is found against Smith that he violated the rules, he could even be banned," Shastri said, while talking to India TV.