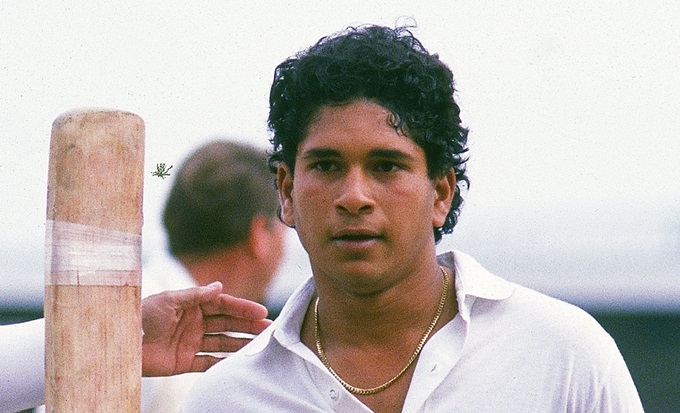 Every cricket lover knows that Sachin Tendulkar, popularly known as the master blaster, made his international debut against Imran Khan-led Pakistani side in 1989 as a 16-year-old. But did you know that before his India debut, Sachin once played for Pakistan when he was a 13-year-old?
Yes, it was on January 20, 1987, when Sachin, over three months away from his 14th birthday, for the very first time stepped into the international arena as a player and that too for Pakistan.
It was an exhibition match between Indians and Pakistan to mark the golden jubilee of Cricket Club of India at Brabourne Stadium, Mumbai.
Javed Miandad and Abdul Qadir left the field at lunch and Sachin was then asked to field as a substitute. Imran Khan deployed him at long-on and soon Kapil Dev hit a skier in his direction. Despite running 15 metres, Sachin could not reach the ball.
Sachin recalled the incident in his recently released book, 'Playing it My Way'. In the book, Sachin remembers complaining to a friend later that he could have taken the catch had he been positioned at mid-on instead of long-on.
"I don't know whether Imran Khan remembers this or has any idea that I once fielded for his Pakistan team," writes Sachin in his book.
Indians, led by Ravi Shastri, however, chased down Pakistan's 189-run target with six wickets in hand. Mohammad Azharuddin top scored with 80 runs.
Sachin Tendulkar, who announced his retirement from all forms of cricket in 2013, is the only player to have scored one hundred international centuries.
On February 24, 2010, Sachin Tendulkar broke the barrier of 200-run mark in limited overs cricket and became the first batsman to achieve this feat.