Follow us on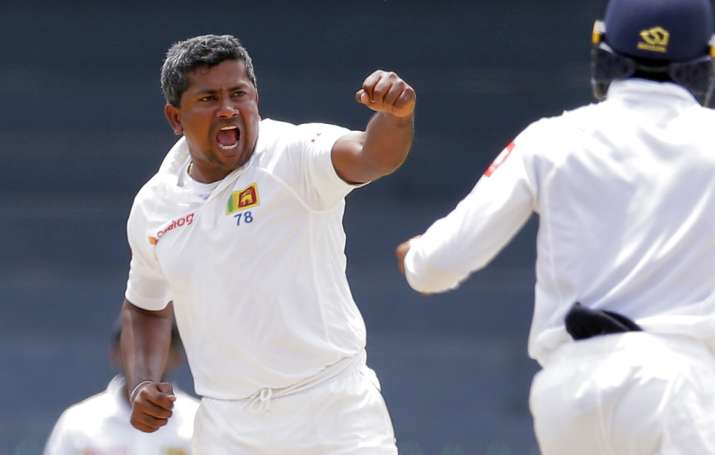 Sri Lanka's stand-in captain Rangana Herath says his team will have to come up with "something special" to have a chance against world No.1 India in the three-match cricket Test series starting in Galle on Wednesday. "We chased 380-odd in our last Test. But India and Zimbabwe are different teams, and we are playing international cricket so that confidence should help the boys. They are the no.1 team at the moment and are playing very good cricket. So this is an interesting and challenging tour for us. We need to do something special," said Herath on the eve of the first Test.
"We need to look for the home advantage. But at the same time, we'll have to look at different abilities of both teams.
We select the team on that basis. So far, we have played with more spinners but we're playing against the world's number one team. So we have a responsibility (to judge the situation accordingly)," he added when asked about his side's balance between pace and spin options.
The hosts will be missing newly-appointed regular Test skipper Dinesh Chandimal who has been laid low with pneumonia.
Dhananjaya de Silva has been drafted into the squad in his place.
Sri Lanka have also included fit-again pacer Nuwan Pradeep and left-arm spinner Malinda Pushpakumara in the squad. The latter has taken 558 wickets in 99 First-Class matches and is a shoe-in to partner up with Herath.
"It's a big loss for us. As a captain or as a player, Dinesh Chandimal gives his 100 percent to the team. We miss him but I am sure he will come back for either the second Test or in the third Test," said Herath.
"Malinda Pushpakumara can take over from me, and I totally agree on that. If you take his First-Class career, he has taken more than 500 wickets. Those statistics say that he is a very good bowler.
"Whether I am retired or not, I am sure he is the second option as a left arm spinner. But we haven't taken a decision whether to play or not Malinda for tomorrow's game. Even if we play two spinners, he may get a chance," he added.
Sri Lanka had beaten India by 63 runs in a stunning reversal in the first Test at Galle in 2015. The visitors had collapsed to 112 while chasing 176, with Chandimal and Herath playing a handsome role in that win.
However, Virat Kohli's side recovered in the next two matches and took the series 2-1, negotiating the ace spinner very well in the remainder of the series.
"Last time, Chandimal scored 160-odd in the first Test and then I also took some wickets. But this time, Indian batting is very strong.
"Whatever happened in the recent past doesn't count now.
We're starting another new series. We need to start well, especially in the first game. Even we have a game plan for each and every single Indian player," he said.
The pitch here at the Galle International Stadium looks to be quite different this time. It has been properly watered and rolled, and has a sprinkling of grass on it, with the Indian skipper describing it as a good batting wicket.
"I think it's a pretty good pitch. I am sure it will help both teams. But even I don't think there will be much for the spinners on the first two days. May be, on days four and five," Herath signed off.