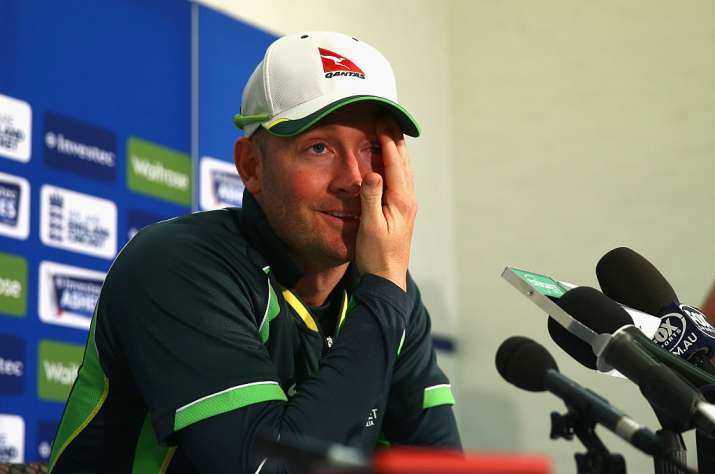 The Australian cricket team's ball-tampering scandal has been described as a "national day of shame." Former captain Michael Clarke hoped he was just dreaming when he first heard the news on Sunday. No, it was real. "WHAT THE ...... HAVE I JUST WOKEN UP TO. Please tell me this is a bad dream," Clarke tweeted. The team, in a plot led by captain Steve Smith and senior players, confessed to ball tampering against South Africa in the third Test at Cape Town on Saturday.
WHAT THE ........ HAVE I JUST WOKEN UP TO. Please tell me this is a bad dream.

— Michael Clarke (@MClarke23) March 24, 2018
Cameron Bancroft carried out the tampering by using yellow adhesive tape to pick up dirt and rub it on the red leather ball to rough it up in an attempt to get it to reverse swing on day three at Newlands. But Bancroft was caught doing it on the field by television cameras, and then attempted to hide the evidence by shoving the tape down his trousers before he was questioned by umpires.
Smith initially said he had no intention of quitting as Test captain. After a phone call with Cricket Australia chief executive James Sutherland on Sunday, Smith and vice-captain David Warner agreed to stand down from their leadership roles for the remainder of the third Test match. Cricket Australia said wicketkeeper Tim Paine will stand in as captain in Newlands.
"Cricket Australia and Australian cricket fans expect certain standards of conduct from cricketers representing our country, and on this occasion, these standards have not been met," Sutherland said in a statement confirming the status of Smith and Warner pending a fuller investigation. "All Australians, like us, want answers and we will keep you updated on our findings, as a matter of priority."
Only hours earlier, Sutherland said he had no plans to take no immediate action against Smith before a Cricket Australia investigative team reported its findings.
Sutherland said the tampering scandal was a "very sad day for Australian cricket" and he was "extremely disappointed and shocked."
"Australian cricket fans want to be proud of their cricket team. I feel this morning they have every reason to wake up and not be proud of the team," Sutherland added.
"One of the unique things about the game of cricket is it is to be played not only within the laws of the game but in the spirit of the game. And, activities on the field yesterday, are neither within the laws of the game or the spirit of the game."
Australia trail South Africa by 294 runs. The four-Test series is level 1-1.
Former England captain Michael Vaughan was scathing in his criticism of the Australians.
"Steve Smith, his Team & ALL the management will have to accept that whatever happens in their careers they will all be known for trying to CHEAT the game," Vaughan tweeted.
Steve Smith,his Team & ALL the management will have to accept that whatever happens in their careers they will all be known for trying to CHEAT the game ... #SAvAUS

— Michael Vaughan (@MichaelVaughan) March 24, 2018
Another former England captain, Nasser Hussain, accused Australia of a double standard.
"The Australian camp has been lecturing people lately on how the game should be played and a line that shouldn't be crossed," Hussain told Britain's Sky Sports. "Some of the stuff that has come out of the Australian camp, especially, has been laughable.
"Well, it looks like they're on the wrong side of the line here. It looks terrible, a premeditated move to get the reverse swing and a blatant attempt to ball tamper."
Ex-Australia batsman Jimmy Maher dubbed it a national day of shame for the country "and for the entire cricket world, really."
The Daily Telegraph in Sydney headlined: "Smith's shock admission: We're cheats."
"Dark day for Australian cricket as Steve Smith admits plans to cheat," the Sydney Morning Herald added.
Former Australia legspinner Shane Warne said: "I don't care who you are, you can't tamper with the ball. I know the Australian sides I played in never did anything like that."
Former Australian captain Allan Border added: "You're kidding yourself if you think you can get away with that."
In sports-mad Australia, of course, the prime minister had to comment.
"Our cricketers are role models and cricket is synonymous with fair play, Prime Minister Malcolm Turnbull said. "How can our team be engaged in cheating like this? It beggars belief." He said he expected Cricket Australia to take "decisive action soon."
The Barmy Army following England's exploits at Auckland in the first Test against New Zealand added their expected humorous twist to the ball-tampering news by wearing yellow tape on their arms, hands or heads to the fourth day at Eden Park on Sunday.