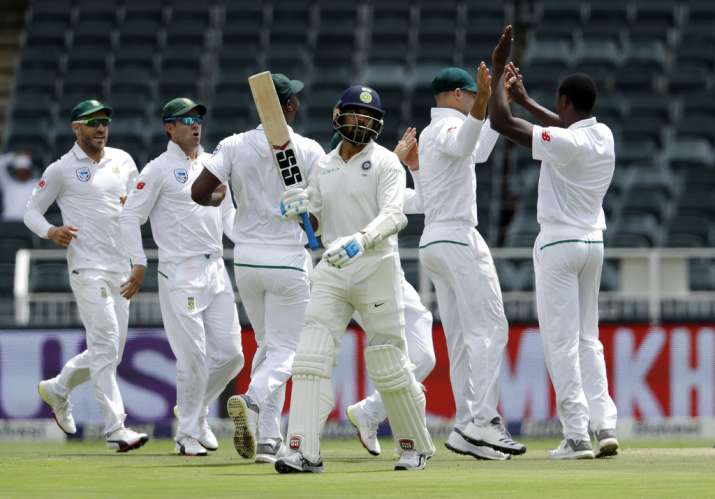 South Africa all-rounder Andile Phehlukwayo praised the Proteas attacking-unit and said that the pacers bowled in the right areas to rack up the Indian batting line up. South Africa bundled out the visitors for 187. 
With credits to skipper Virat Kohli and Cheteshwar Pujara's fifties, Team India managed to project a score on the board after openers Murali Vijay and KL Rahul were dismissed early. Phehlukwayo collected the wickets of Pujara and Hardik Pandua.
"We did have a good day. Our efforts on the field were really good bar a few mistakes here and there. 180-odd is really good. The guys put the ball in the right areas and they were rewarded," said Phehlukwayo after taking 2-25.
The South Africa all-rounder felt that the hosts got off to a positive start but the wicket can have anyone's number as the ball is unexpectedly swinging from time to time at the New Wanderers Stadium in Johannesburg.
"Its a really good wicket (to bowl on). But you've got to be really positive and look to score. You have got to get into good positions otherwise there is a ball that has your number on that type of wicket."
He said India's 187 was a decent total on the Wanderers' wicket.
"You have to be looking ahead of the game. Their total is a decent enough total but it is not really par. We bowled really well. If you just hang in there and try to get bowlers into 2nd and 3rd spells, you can cash in (as batsmen)," he added.
"I looked at who was bowling at that time and Vernon (Philander) bowled eight overs for one run. As much as they were not going anyway, the bowlers did really well and maintained discipline really well.
Virat Kohli and Cheteshwar Pujara scored contrasting half-centuries as India lost their last 7 wickets for 90 runs. The latter though struggled to get off the mark for 54 balls, with India scoring only 45 runs in the morning session.
"Kohli at the end was really positive, and Pujara was waiting for bad balls but he didn't really get many. You've got to find a way to try and score on that wicket, and they weren't going anywhere. If we had added two more wickets, we would have been really into the game," he added.
The all-rounder outlined that this was a good pitch for bowlers and that the batsmen can get exposed here if the proper lengths are bowled.
"I was the fifth seamer. My job was to try and hit a length. If there's nibble on the wicket, try and expose that. Just try to hit top of off stump, with a few bouncers and try getting a reward from that.
"Days four and five will get quite difficult to bat. There are obvious cracks and one ball deviates a lot (off length). It will go up and down. Its already getting quite difficult from length. If we post a good first innings score, I think it will be a good game, he signed off.
South Africa bat on the second day with a wicket down as Bhuvnehswar Kumar struck early at the New Wanderers Stadium in Johannesburg.
(With PTI Inputs)