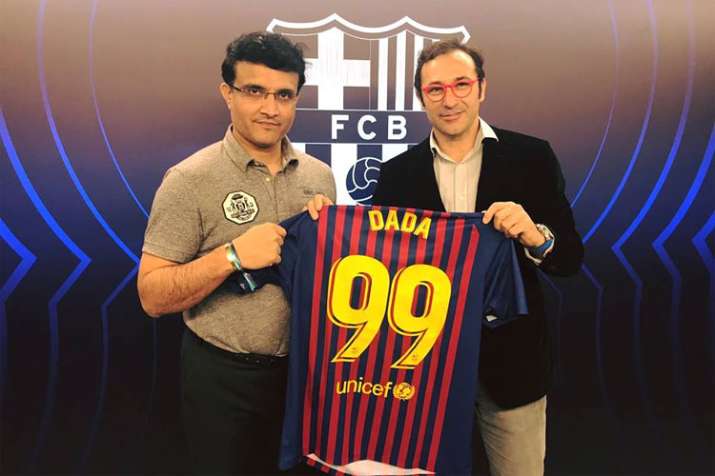 Former India captain Sourav Ganguly has an open love-affair with football and he likes to flaunt it whenever given a chance. Ganguly is the co-owner of Indian Super League's team ATK.
Ganguly, who is pretty much involved in the ongoing India vs Australia series with his expert opinions, finally took a break from it and decided to visit his favourite destination - Barcelona (in Spain) with family. The 'Dada' of Indian cricket received a delightful present there as he got a jersey from Spanish football giants Barcelona (FCB) customised with his nickname on the back with no 99 on it.
Spanish league La Liga posted a photo on Facebook with a special message in Bangla and English.
HOWWZZAAAT?! DADA Camp Nou gacche, aar FC Barcelona's jersey paai ni, erom hote paare?! Sourav Ganguly was presented with his very FC Barcelona shirt by club board member Oriol Tomas i Carulla! 
Earlier, India TV cricket expert Ganguly pointed out the reasons why Team India lost the second Test match against Australia in Perth. 
The ongoing four-match series against Australia is tied at 1-1 after two matches and the third match starts in Melbourne from December 26.
"You can't call anyone culprit in cricket, we all saw the stats and only Virat Kohli scored runs while everyone else failed. In 2018 we played 3 Tests in South Africa, 5 in England and 2 till now in Australia, we have played a total of 10 Test matches and how many times Team India has crossed the 300-run mark, it happened only once in Trent Bridge where India won the Test match. Average of Indian batsman is 26, 11, 30...you cannot win Test matches with this average outside sub-continent conditions.
"This sums up the reason of India's failure. I agree that our bowlers failed to get rid of tailenders but in the past year, the thing that worked in our favour is the fast bowling attack. The main factor behind the failure is that Indian batsmen have not been able to score runs, before every series we talked about that they need to score 350 plus. When Virat Kohli scored then only India score 290 otherwise they scored much less when he got out early," Ganguly told IndiaTV.