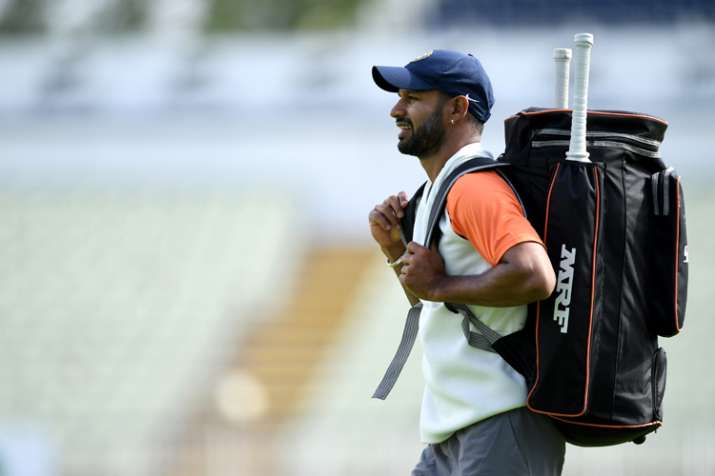 With the only warm-up game before the five-match Test series, ending in a draw, India were left with a few questions regarding their top order batting. The visitors would have been heading to Birmingham, the venue of the first Test, in a much better space if two of its key batsmen Shikhar Dhawan and Cheteshwar Pujara had gotten some runs under their belt.
However, it was not to be as Dhawan departed without scoring for the second time in the match thus bagging a pair while lasting just four balls across two innings. But this didn't stop Dhawan from posting a picture with Virat Kohli and Cheteshwar Pujara on his sides in the slip cordon. He captioned the image: "Kaise na ho guajara.. jab saath ho Kohli aur Pujara!"
Kaise na ho gujara.. jab saath ho Kohli aur Pujara! pic.twitter.com/7SXrm8kShf

— Shikhar Dhawan (@SDhawan25) July 27, 2018
The tweet wasn't very well received by a number of fans as they saw it as an opportunity to troll the out-of-form batsman.
Run Banao Is Baar Sabse Jyada,,, Nahi toh Team me na Dikhna Aapne Dubara 😂

— BALJEET SINGH (@baljeet96) July 27, 2018
Karo pooja ya karo hawan.. bas run banao shikhar dhawan 🙂👍

— pallav (@pallavhere) July 28, 2018
Kese bnogy hero jab run bnaogy zero😆😆😆😆😆

— Dheeraj Joshi (@Dheeraj09842066) July 27, 2018
Kab tak loge Unka sahara
Thora score khud bhi krle yaara

— Karan (@kannuJK) July 27, 2018
Kab tak krenge kohli aur pujara aapka gujara
Khucch aap bhi kro yaara

— Sahil choudhary (@Sahilch95772698) July 28, 2018
Kb tk kohli karaega gujara ...

— pushpendra009 (@Kumar67Pk) July 27, 2018
The first Test of the series is due to start tomorrow in Birmingham and it will be interesting to see how the left-hander responds to his trolls with the bat.