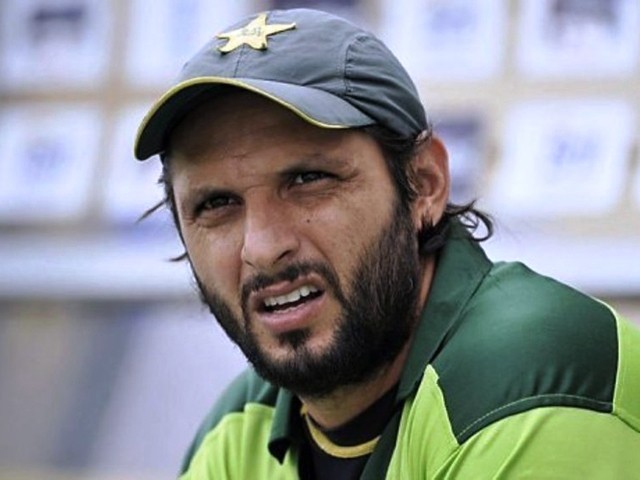 New Delhi: It seems that the hostile reaction that Pakistan's T20 captain Shahid Afridi faced from his compatriots over his 'more love in India' remark has scared him hugely and now he is trying to douse the fire by harping on 'support from Kashmir'.
Immediately After landing in India for participating in ICC World T20 tournament, Shahid Afridi created a controversy by saying that he and his team members received more love in India compared to Pakistan.
"I am in the last stage of my career and I can say that the love I have got in India is something that I will always remember. We have not got this much love even from Pakistan," Shahid Afridi had told media persons.
His comment was not taken kindly in Pakistani and Afridi was severely criticised by Pakistani media as well as a majority of cricket lovers. He was accused of insulting and belittling his own nation sitting in a foreign country.
The anguish was so deep that former Pakistani captain and legendary batsman Javed Miandad said that Afridi should be ashamed of himself.
 
Cricket commentators  accused him of insulting Pakistan for the sake of seeking favours from Indians in IPL and Cricket commentary team. They accused him of seeking a berth in IPL teams either as a player or some sort of coach. Some people alleged that Afridi was lobbying for a commentator's job post-retirement.  
 
Shahid Afridi would not have expected such adverse reaction from his fellow countrymen. After his faux-pas, the team management barred him from speaking to media during customary pre-match and post-match press conferences.
An embarrassed Shahid Afridi was perhaps looking for some sort of damage-control and it seems that his two consecutive 'support from people of Kashmir' remarks are aimed to douse the fire back home.
Shahid Afridi seems to have calculated that he can win back the support of those Pakistanis who are feeling hurt over his 'more love in India' remark if he starts making right noises on Kashmir which is perhaps the most emotive issue in Pakistan today as far as its relation with India is concerned.
When asked to comment about the cheering crowd at Mohali during Pakistan's match with New Zealand, Shahid Afridi said that people of Kashmir had arrived to support Pakistan.
"Yes, a lot of people, a lot of people are here from Kashmir as well," Afridi had said.
Afridi's remark on 'support from Kashmir'  was not liked in India and BCCI secretary Anurag Thakur went to the extent of advising him to focus on cricket only and desist from making politically incorrect statements.
"To give a statement like that is not politically correct. A player should stay away from all this. That's the reason why he was criticised in Pakistan," Thakur had said.
Many people in India thought that perhaps it was a slip of tongue on part of Shahid Afridi and that he did not say it deliberately.
But the way Shahid Afridi repeated the same statement after Pakistan's match against Australia, once again in Mohali, has given the impression that actually he made these statements after proper consideration and deliberation. And his intention could very well be to recover the lost ground back home after his 'more love in India' comments.
What cannot be overlooked is that he is a favourite of PCB Chairman Shaharyar Khan, a former career diplomat, who knows how to turn an embarrassment into an opportunity.
Shahid Afridi is known to consult him before taking every crucial decision. When Shahid was facing Damocles' sword over his T20 captaincy, Shaharyar Khan had reportedly remarked," You are a Pathan, I am a Pathan. I give you my word; you will continue to be the captain. Stop worrying."  It indicates the proximity between the two.
It is very much possible that Shaharyar Khan would have advised him to rake up 'Kashmir' to control the damage arising out of his 'more love in India' statement. After all, this is what Pakistani leaders have been doing all this while in order to deflect their people's attention from real issues.
History is witness to the fact that whenever Pakistan's political leadership finds itself on a weak wicket, it starts harping on 'Kashmir' and at times, they have succeeded in deflecting attention from serious and tough questions.
Is Shahid Afridi trying to adopt the same tactics? Well...it seems so.