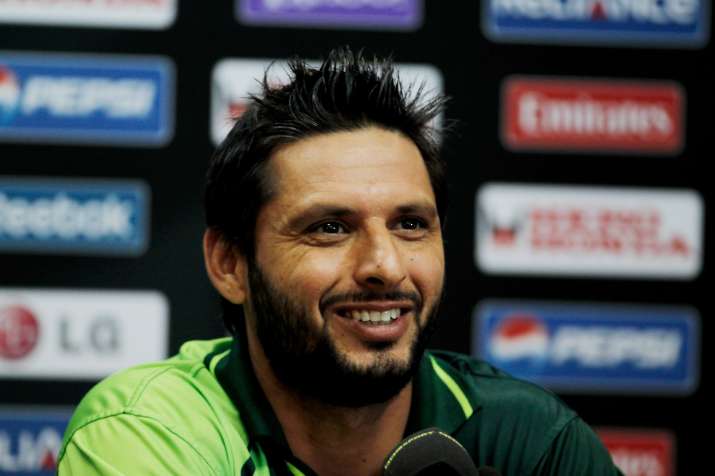 The India-Pakistan rivalry in cricket is never ending as every time the two teams step onto the field, the heat surely rises and former Pakistan all-rounder Shahid Afridi has been in such situations before but a video recently surfaced across the internet which changes the entire complexion of how the fans feel about the player and here's one of the reasons why the all-rounder is loved all across the globe.
After winning the second match of the two-day event, Afridi took out time to sign autographs and pose for photographs with hundreds of fans gathered by the sidelines of the frozen lake. Amidst all the posing and shining, there was a lady who was holding the Indian flag. What happened next will surely melt your hearts. Take a look.
Afridi posed with the lady and asked her to straighten the Indian flag while having a photograph being taken. Given the tensions between the two nations, this heartwarming gesture will surely be remembered by the Indian cricket fans.
The maverick all-rounder was in St Moritz, for the St Moritz Ice Cricket, a two-day event between two teams - Virender Sehwag's Badrutt's Palace Diamonds XI and Shahid Afridi's Royals XI. It was the latter team who won the series 2-0 with ease. (MATCH REPORT)
This was the first time in cricket history where the sport was being played on ice and will surely be a rememberable event for the players and the fans who witnessed legends of the game have a go on ice.
 The two matches took place on a frozen lake with the temperature dipping below minus five degrees Celsius.
Cricket greats such as Virender Sehwag, Zaheer Khan, Shoaib Akhtar, Andrew Symonds, Michael Hussey, Lasith Malinga, Jayawardene, Graeme Smith and many more were present for the event.
​