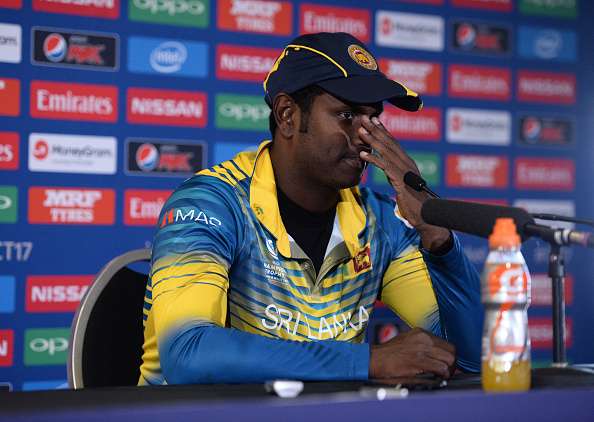 After a heavy defeat to the visitors, Zimbawe in the ODI series Sri Lanka skipper Angelo Mathews has admitted that the unexpected 2-3 home series loss is "one of the lowest points" of his career and a "hard one to swallow". An unexpected turn of events was created when Zimbabwe stunned the hosts in a thrilling contest of matches to clinch the victory. 
All-rounder Sikandar Raza starred with his performance by scoring and collecting wickets to help Zimbabwe beat Sri Lanka by three wickets to clinch a historic series victory in the fifth and final ODI at the Mahinda Rajapaksa International Stadium, Hambantota on Monday.
Taking the series 3-2 in Hambantota, 11th-ranked Zimbabwe registered its maiden series win in Sri Lanka, and first overseas triumph in eight years. "It's one of the lowest points in my career and a hard one to swallow," says Mathews.
"Everything went against us, from the toss to misreading the wicket. There are no excuses. At the end of the day, we were not good enough to beat them. They played better cricket," he added.
Under Mathews, Sri Lanka have won an away Test series against England, and a home Test series against Australia. However, their performance in limited-overs cricket has been dismal since the 2015 World Cup.
The Lankan Tigers defeated Ireland and West Indies under Mathews but lost home series against Pakistan, Australia and now Zimbabwe.
Mathews said he would seek consultation from the Sri Lanka Cricket (SLC) selectors before making a firm decision on his captaincy future.
"Still haven't thought about stepping down," Mathews said.
"There's time. I'll give it a bit more thought and talk to the selectors. I haven't decided anything yet," he insisted.
Sri Lanka haven't had much time to absorb the shocking defeat as the one-off Test against Zimbabwe begins on Friday, and after that their Asian neighbour India will arrive for a full tour which kicks off on July 26.
"We have an India series coming up, but before that, we have the Test against Zimbabwe to talk about. The Indian series will be even tougher. In a small period, we have to fix our problems. As a team, we train, but it still seems like something is not working in the middle," said the Sri Lanka skipper.
India's tour of Sri Lanka will begin at Galle on July 26. Virat Kohli's men will be playing three Tests, five ODIs, and one T20I during the series.
With ANI Inputs