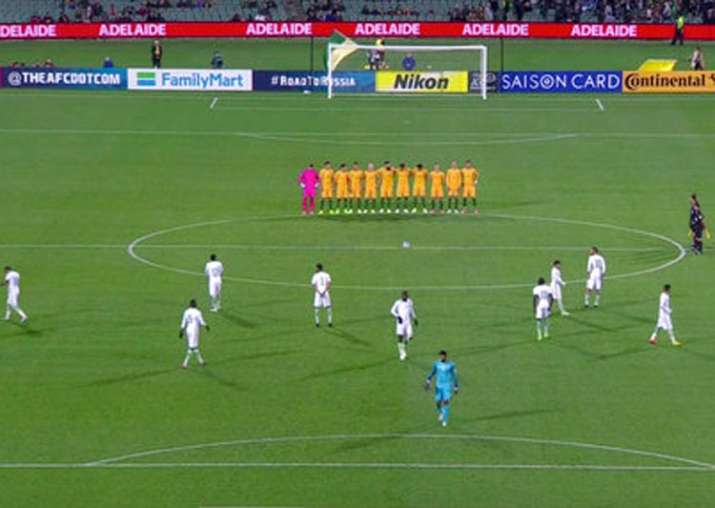 The Saudi Arabian soccer federation has apologised after its players declined to participate in a minute's silence in memory of last weekend's deadly attacks in London. Ahead of a World Cup qualifying match against Australia on Thursday, the stadium announcer called for a minute's silence to honor the eight victims of the attack, including two Australians. The 11 Australian players on the field lined up near the center circle with arms on their teammates' shoulders.
Their opponents from Saudi Arabia stayed on the other side, most seemingly ignoring the gesture. Video appeared to show one Saudi player bending down to tie his shoe lace during the minute's silence.
FIFA said Friday it has reviewed the match report and images from the incident and will not take any action against Saudi Arabia.
"We can confirm that there are no grounds to take disciplinary action," FIFA said.
The Saudi federation said in a statement it "deeply regrets and unreservedly apologizes for any offense caused."
"The players did not intend any disrespect to the memories of the victims or to cause upset to their families, friends or any individual affected by the atrocity," the statement said. "The Saudi Arabian Football Federation condemns all acts of terrorism and extremism and extends its sincerest condolences to the families of all the victims."
Australia won the match 3-2.
The Australia soccer federation, known as the FFA, said Saudi team officials knew about the plan to hold a minute's silence before the match and had indicated that the players wouldn't participate.
"Both the (Asian Football Confederation) and the Saudi team agreed that the minute of silence could be held," the federation said in a statement. "The FFA was further advised by Saudi team officials that this tradition was not in keeping with Saudi culture and they would move to their side of the field and respect our custom whilst taking their own positions on the field."
Typically, FIFA representatives meet with officials from both teams and the referee a day before a World Cup qualifier to discuss game-related protocol, including plans for reflections such as the minute's silence.
Australian Prime Minister Malcolm Turnbull was asked early Friday about the incident but said while the matter had been raised with him, he had not seen video.
"The whole world, the whole free world is united in condemnation of that terrorist attack and terrorism generally," Turnbull said, without directly referencing the match. "The heartbreaking, heartbreaking loss of young Australians in London, (and) of course in Baghdad, and just this week in Melbourne to these murderous terrorists - Everybody, everyone should be united in condemnation with the terrorists and love, and sympathy and respect for the victims and their families."
Senior Australian Labor politician Anthony Albanese described it as "a disgraceful lack of respect."
"There is no excuse here. This isn't about culture," he said. "This is about a lack of respect."