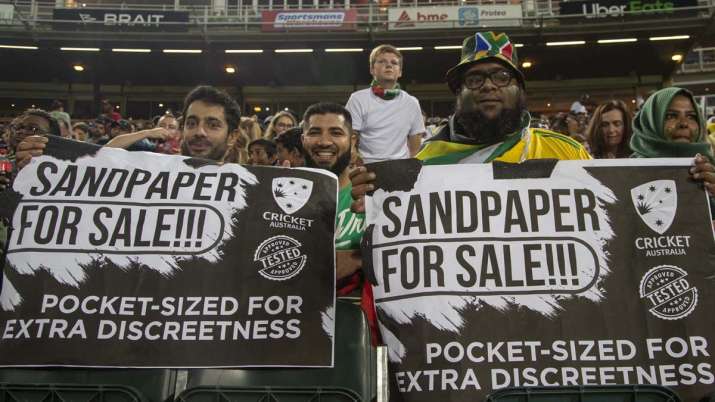 Former Australian skipper Steve Smith made his first appearance in South Africa since the infamous Sandpaper incident in Cape Town in 2018 and he top-scored for his side in their thumping 107-run win at the Wanderers on Saturday against Quinton de Kock's side. Despite his knock of 45 off 32 that played a pivotal role in Australia's win in the first T20I match of the three-game series, Smith found himself amid boos although the crowd wasn't as brutal as he might have expected. 
The boos followed in after Smith managed to hit a four off Dale Steyn's delivery that had bounced twice on the pitch before hitting the willow. The umpire immediately ruled it out as a dead ball and that is when the spectators booed at him. In fact, amid the crowd, a placard read, "Sandpaper for sale. Pocket-sized for extra discreetness."
Meanwhile, David Warner, who as well was involved in the scandal, scored just 4 runs before departing off the second ball. Australia finished with 196 for 6. In reply, Ashton Agar took a hat trick en route to his 5 for 24 as South Africa crumbled to 89 all out — its lowest T20 total. Agar became the second Australian after Brett Lee (in 2007/8 against Bangladesh in Cape Town) to take a T20I hat-trick and 13th bowler overall.