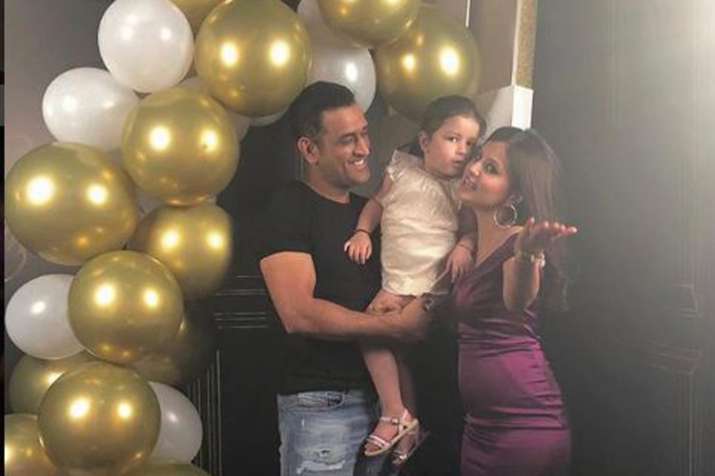 Sakshi Dhoni thanked Robin Uthappa for bringing her and Mahendra Singh Dhoni together through an Instagram post from her birthday.
Sakshi and MS tied the knot in 2010 and have a three-year-old daghter Ziva, who perhaps the answer to Taimur Ali Khan in the sports fraternity.
Sakshi, who turned 30 few days back, shared a photo of hers along with Robin Uthappa and her wife Sheetal from the party in Mumbai.
"Thanks to this man here, Mahi and I are together!!! It was great meeting you Robbie and Sheethal...Thank you guys for coming and lot's of cuddles to the little one! And Sheethal you looking Hot as ever!" Sakshi wrote on her Instagram post.
Uthappa and Dhoni were a part of the inaugural T20 World Cup that India won under the leadership of MSD and have been friends ever since.
The party was also attended by Hardik Pandya and other close friends but overall it was more or less an intimate affair.
Singer Rahul Vaidya, who is a close friend of Dhoni, was also in attendance but most of the attention was stole by none other than their daugter Ziva for her innocent ways and of course Pandya, who was seen smoking in one of the videos that was posted from the party in social media.
Both Hardik and Dhoni are currently away from international duty while Uthappa was seen commenting in the first T20I between India and Australia at the Gabba on Wednesday.
Hardik is still recovering from his injury and was therefore kept out of the T20 and Test squads against Australia while Dhoni was kept out of the T20 series squad for both the series against West Indies and Australia as the selectors wanted to look for a second wicketk-keeper.
However, both Dhoni and Hardik are expected to return for the ODI leg of the Australia tour in January next year.
India will play three ODIs against the Aussies on January 12, January 15 and January 18.