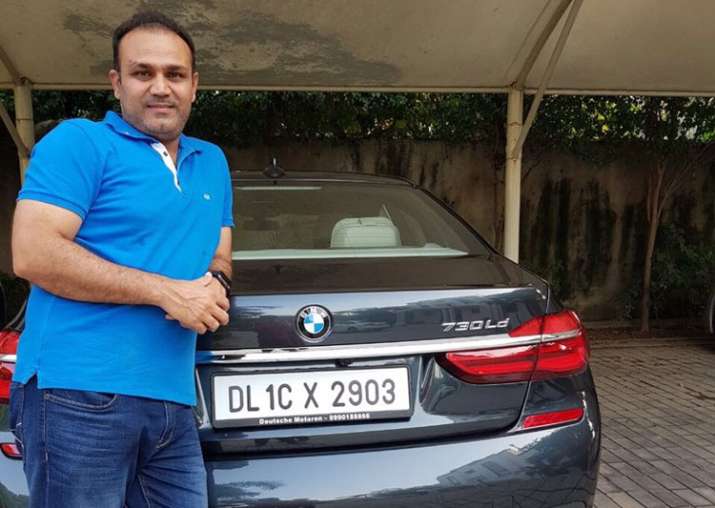 Former India opener Virender Sehwag on Tuesday thanked Sachin Tendulkar for presenting him with a BMW 7 Series. The 38-year-old, famously known as the Nawab of Najafgarh, took to Twitter to post a picture of himself standing next to a swanky BMW 730 Ld, which is worth over a crore. Captioning the pic, Sehwag thanked his long time opening partner and batting maestro Tendulkar, saying: "Thank you @sachin_rt paaji and @bmwindia. Grateful for this!"
Thank you @sachin_rt paaji and @bmwindia .Grateful for this ! pic.twitter.com/8PQd9NxO11

— Virender Sehwag (@virendersehwag) September 26, 2017
Sehwag and Tendulkar's relation go a long way as the two formed one of the best opening partnerships for India.
Sehwag and Tendulkar opened the innings for India in 93 innings between 2002 and 2012 and were involved in 12 century run-stands and 18 fifty-run stands. Together they have scored 3919 runs with a combined average of 42.13.
Sehwag has also been very vocal about Tendulkar's influence on his career. 
Sehwag, who once destroyed some of the best bowling attacks at will, recently revealed on India TV that he would love to change his name to "God" Sachin Tendulkar. 
Sehwag, who has joined India TV as the new cricket expert on its hugely popular show "Cricket Ki Baat", said he would love to be called a "God" in this mortal world. 
"I would want to change my name to Sachin Tendulkar if I could do it. He has tons of records, I am not even close to him. He is called as the "God" and who would not want to be a God in this mortal world," Sehwag told India TV.
Meanwhile, Tendulkar has also been an admirer of Sehwag's style of play. At the time of his retirement in 2013, the Master Blaster had said that Sehwag was a true champions and an absolute joy to play alongside.