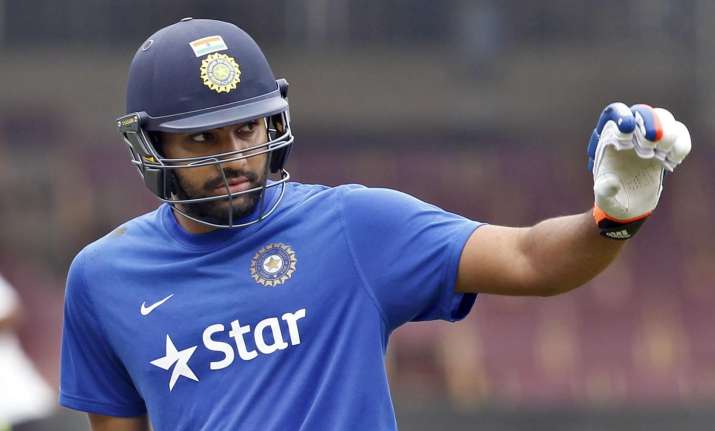 Indian batsman Rohit Sharma, who will miss out on the Test series against England starting November 9 due to a thigh injury, might undergo surgery after consulting a specialist in London next week, effectively ruling him out of the four-Test rubber against Australia early next year. 
Rohit had sustained the injury during the Vizag ODI against New Zealand on October 29 and if the treatment requires a surgery, it will rule him out for 10-12 weeks, which means he will not be able to make a comeback by the time the series against Australia begins on February 23.
"He will travel to London early next week for specialist consultation with a possibility to undergo surgery, as a result of which, he is expected to miss at least 10 to 12 weeks of cricket. The BCCI medical team will extend all support to Rohit Sharma, to regain full fitness and further contribute to Indian Cricket," a BCCI release said. 
Rohit, on his part, said the "picture is not clear" and only after a proper evaluation of his injury, something can be said about his comeback. 
"I don't know (how much time I will miss cricket). Our BCCI medical team is in touch with doctors, the scans we have got till now have been sent to doctors, we are waiting for their opinion, whether to do surgery or not, if we do the surgery then how much time is needed," Rohit told reporters after the launch of Adidas Home Court store in suburban Bandra. 
"The picture is fully not clear. I think in one or two days the picture will be more clear, whether it (surgery) is happening or not. It is an important decision if we do surgery. If I do the surgery, I cannot play for 3 to 3 and half months. We are waiting for the doctors' opinion, let's see what happens," the Mumbai player added. 
Asked about the nature of his injury, Rohit said, "Like you saw, while taking a run the muscle pulled up then I understood that I won't make it to the crease, so I dived, after that our physio told me that it was necessary to take a scan." 
"The next two days was Diwali so all hospitals were closed, so we took the scan on (November) first and after that all the medical reports were given to BCCI medical team," he added.
(With PTI inputs)