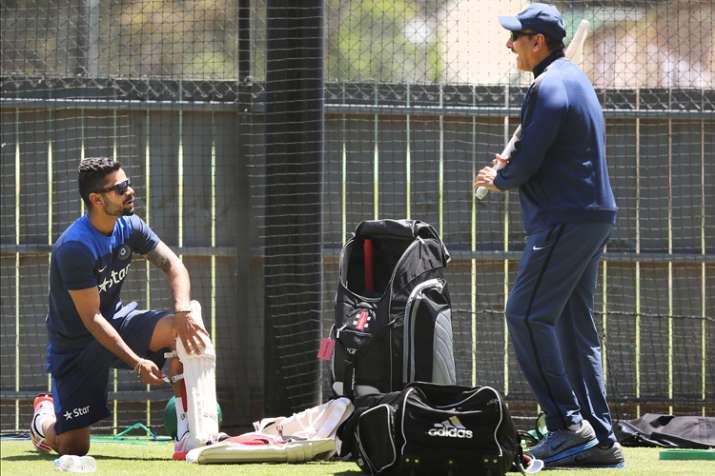 India cricket team coach Ravi Shastri has assured that captain Virat Kohli has recovered from the neck injury that he picked up during the IPL and will be stronger than ever on the upcoming England tour, starting July 3. 
"Physical tiredness is one thing but being mentally fatigued means to say that you want to score a hundred, but your body doesn't want to go the extra mile. The rest has benefitted Virat," Shastri told IndiaTV during the show 'Cricket Ki Baat'. (Also Read: Exclusive | India vs England will be 100 per cent entertainment, guarantees coach Ravi Shastri)
Kohli was supposed to play County Cricket for Surrey ahead of India's tour of England but he withdrew due to a neck injury, which he suffered during the 11th edition of the Indian Premier League (IPL) in May.
The 29-year-old batsman on Friday claimed that missing the much-anticipated county stint has turned out to be a blessing in disguise. Shastri agrees with the skipper as he has seen some "positive" changes in the Delhi-born batsman after a much-needed break. (Also Read: Team India is enjoying its 'London Summer' ahead of tough challenge; See pics)
"His thought process is now fresh and is quite positive. The rest was much needed," Shastri added.
When India last toured England in 2014, Kohli failed to put up an impressive show and managed to score a mere 134 runs in ten innings. In the limited-over format too, Kohli hasn't been up to the mark in England as he has mustered 291 and 70 runs in 10 ODIs and two T20Is, respectively.
Shastri is confident that Kohli will score well this time in England as he is riding a run-scoring momentum. "That was four years ago. Over a thousand days have passed by. I don't remember what I did four years ago. It's water under the bridge now. 
"He (Kohli) has been scoring runs since then and his approach would be as the way it has been in the last three-four series. His approach wouldn't change according to the tour, like the way you saw him in South Africa, the same way it will be in England," he continued.
The 56-year-old former India captain firmly believes that the leadership role has infused more "responsibilities" into Kohli's batting. "Look at his records. The performances across all formats. He is a captain now more responsibilities are added to the tag," Shastri said.