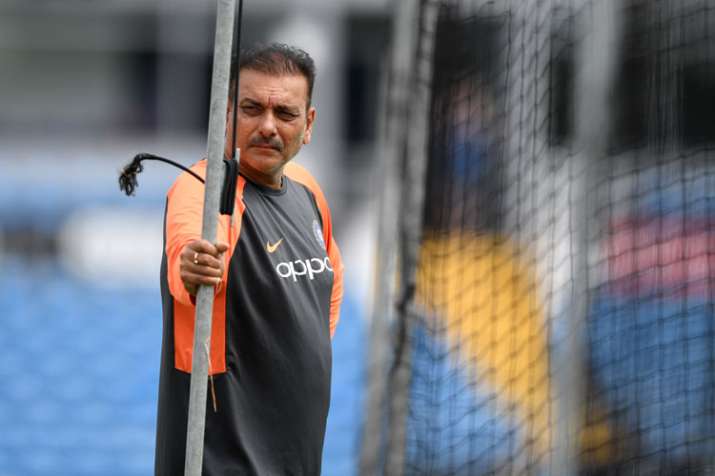 Team India coach Ravi Shastri has been vocal about India being a flexible team and the need for it and on Tuesday, he once again stressed on the fact that there is no set combination and plans will vary according to the situation.
Shastri when asked about the No.4 spot and any set batsman being assigned for it, said that it will vary according to the situation.
"Our mantra is to be flexible in the last 10 overs, pitches are going to be flat but overcast conditions will also have to be taken into consideration. It will also depend on venue to venue, so you have to be prepared for that and be flexible," the 56-year-old said.
The former India all-rounder also heaped praise on Mahendra Singh Dhoni and said that he will be a big player in this year's tournament.
"His communication with Virat has been great. He has shown that he is still the best in this format of the game. What was good to see in the IPL was the way he was moving and hitting the ball," he said on Kohli's relation with Dhoni.
"He will be a big player in this World Cup," he added.
Shastri also felt that this Indian team has a great opportunity to win the cup if they play to their potential but is vary that it is going to be tough.
"This tournament is a great opportunity, our team has played great cricket for the past five years. We need to enjoy the World Cup, see it as just a stage, if we play to our potential then the Cup can be here. The format is also challenging, the gap between teams is also very close. It's a very strong competition. It will be fantastic. The plus side is you have nine games," Shastri said.
India skipper Virat Kohli also backed the team to do well if they play the cricket that they have over the last couple of years.
"The only expectation we have to play really good cricket and that's why the results have come over the last two-three years. We have a very balanced squad and you saw that in the IPL as well. Everyone is in really good form. So, that is the focus," Kohli said.
India are going ahead with a full-strength squad with Kedar Jadhav announced fit and will play two warm-up games against New Zealand and Bangladesh before their first game against South Africa on June 5 at Rose Bowl.