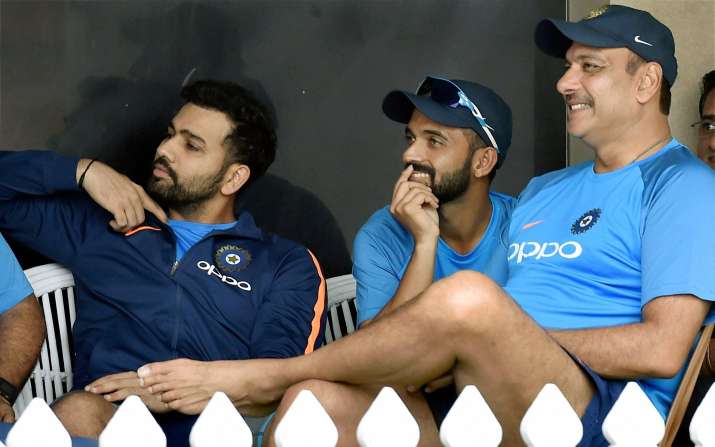 Following India's yet another 3-0 whitewash over Sri Lanka in the Twenty20 series, head coach Ravi Shastri has said that his team is not really bothered about its performance in the T20 format. Shastri said his players don't lose sleep over the results in the shortest format of the game and that it is just a platform for the youngsters to show their strengths ahead of the 2019 ODI Cup. India wrapped up the year on a high with a five-wicket win in the third Twenty20 against Sri Lanka on Sunday at the Wankhede Stadium in Mumbai. 
Lauding his players, Shastri said: "That's the hallmark of a good team where we respect oppositions, and when you respect oppositions you stay grounded," he said.
When asked about the format, Shastri said: "T20 cricket for us, we don't care. You win or lose, it doesn't matter, but give youngsters the opportunity so you come to know who is in the fray for 2019."
Sunday's win was also India's first in a Twenty20 International at the Wankhede Stadium. Shastri heaped special praise on pacer Jaydev Unadkat, who impressed with figures of 2/15. Unadkat had figures of 1/7 and 1/22 in Cuttack and Indore respectively, where the first two games of the series were played, after being included in the squad on the strength of his good show in domestic cricket.
"Very good variations (talking about Unadkat). He's been around for 5-6 years now but he's evolved beautifully. He understands his bowling which is so important," Shastri added.
The 55-year-old, who took over as India head coach in July this year, also lauded opener KL Rahul.
"Rahul is a class player. He's got time. He plays all the shots. For me, he's the most improved player in world cricket in the last 18-20 months."
The coach singed off with an eye on the upcoming South Africa tour, starting on January 5.
"That's the challenge (the South Africa tour). In your playing career, if you're not up for challenges, then it's no fun. Should be a good series. This is a side which can compete anywhere in the world," Shastri said.