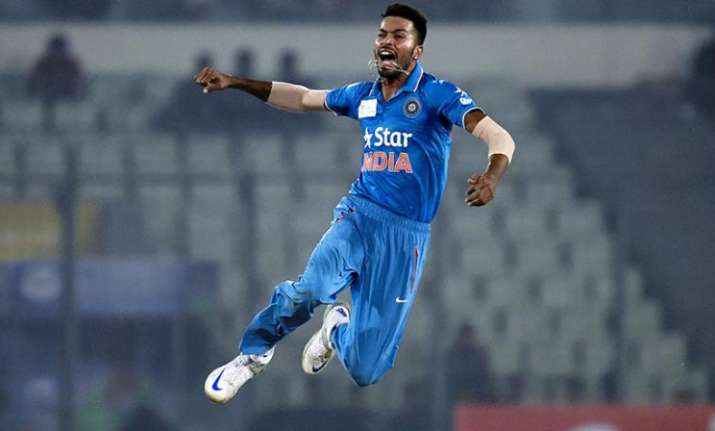 India all-rounder Hardik Pandya has already charmed many with his skills in a short span of time in international cricket. In fact, the 24-year-old Baroda lad got his national call-up all of a sudden and raised eyebrows over his selection watching his impressive hitting in T20 but handful experience in first-class cricket.
National chief selector MSK Prasad then justified his call-up claiming India A coach Rahul Dravid had shown his confidence in the all-round prodigy.
Coach Dravid, who departed with the national under-19 team for the ICC U-19 World Cup on Wednesday, refused to take credit for Pandya's emergence and growth in international cricket.
"Hardik came into the team because of himself, he is the one who has put in the performances and he is the one who has that X-factor," the 44-year-old told reporters in Mumbai.
Revealing what might have worked in Pandya's case, Dravid added: "When you are a fast bowling all-rounder in India, there aren't many to compete with and that's the reality. If you are a batsman or spin bowler in the country, it's tough because there are a lot of people you compete with, if you are a fast bowling all-rounder, you can count on fingers of one hand, how many fast bowling all-rounders so to speak are playing in India."
Expressing how valuable Pandya would be on India's upcoming overseas tours, Dravid said: "When that opportunity opened up in the Indian team and there was a need to, the recognition that overseas tours coming up, we need to identify that kind of person and credit to the selectors."
Under the captaincy of Virat Kohli, India will start their away season touring South Africa for a lengthy series, comprising three Tests, six ODIs and three T20Is.