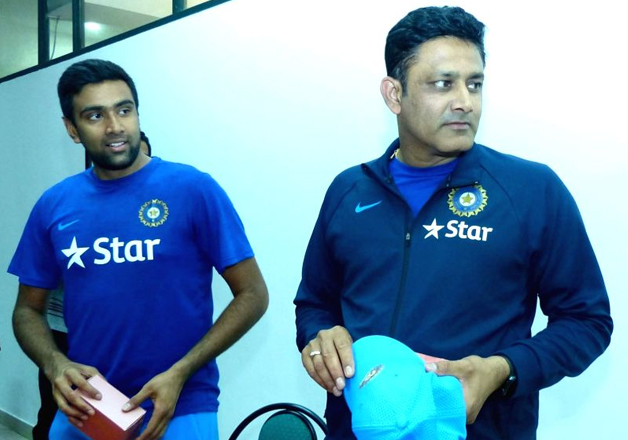 Basseterre (St Kitts): Team India's off-spinner R Ashwin today praises new head coach Anil Kumble, describing him as a disciplined man who has brought in a lot of energy into the young team.
Ashwin said that the 45-year-old is someone who understands bowling psyche and can provide the right impetus to the bowlers during match situations.
"Understanding a bowler's psyche is a challenge and it is difficult for a batter to understand that. Someone like him he understands how the situation is and conditions are, he might give you the right impetus that you need," Ashwin said.
"For example, if you are going well but wickets haven't fallen, he might be that one hand around your shoulder saying this is exactly what we want you to keep doing," Ashwin added.
Ashwin said that Kumble has given him the freedom to express himself and he is looking to take a cue out of the legend's bowling.
"So far he has provided me with a lot of confidence and responsibility. It has been more of giving me the license to express myself which I really relish but both of us need time to start knowing each other. It has been 10-12 days since Bangalore camp. He had an open chat and he has already told me what he is going to look forward from me and I have told him what I look forward to him teaching me. He has already started bowling at the nets and I can pick out some notes from it," he said.
The 29-year-old from Tamil Nadu, who has grown up watching Kumble said he was happy to find the iconic cricketer just as he had imagined over the years.
"There is a saying that whenever you come too close to a celebrity, you get disappointed but with respect to Anil bhai whatever I have measured of him from a distance have come true," he said.
"He is the same man, same discipline, same intensity, it has been wonderful. He brought a lot of energy and meticulousness among the group. You know there is a lot of planning when he is around. These are the things which I had expected from him and this is exactly what he has done," he added.
Kumble was appointed as Team India's head coach on June 23. He took charge at the team's preparatory camp in Bengaluru last month.
Team India is currently in the Caribbean gearing up for the four-match series against the West Indies.  
With PTI Inputs