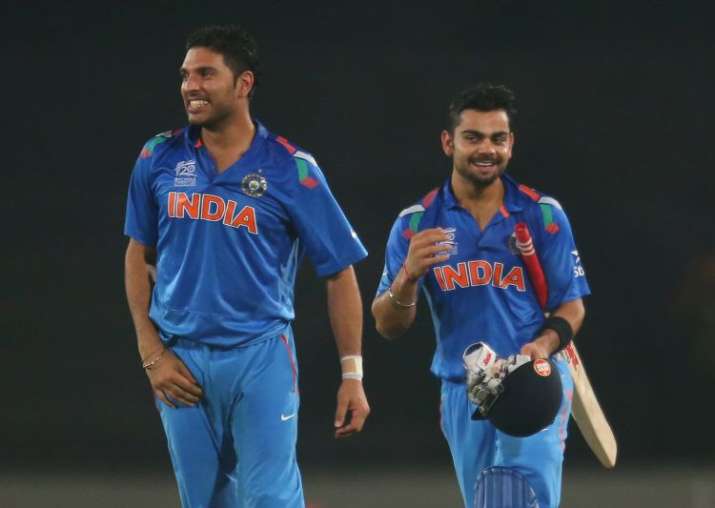 Fighting for his comeback amid high demand for fitness in the Indian national cricket team squad, bygone middle-order batsman Yuvraj Singh doesn't shy to heap praises on skipper Virat Kohli for setting new parameters.
"Virat is a bit aggressive. The results have shown that he is doing very well as captain. The team has transformed under Virat. Being so fit himself, he emphasises on fitness," Yuvraj said as quoted by Sports Star.
Comparing a current lot of players under Kohli to previous generation cricketers, the 36-year-old said that the Delhi batsman has his eyes firmly set on the 2019 World Cup triumph with a "fitter" young generation. 
"The players now are much fitter than the previous generation because the game too has become more demanding. Virat is taking the team in the right direction with his fitness and diet discipline, keeping in mind the 2019 World Cup," he said.
Yuvraj, who remained under spotlight throughout India's World Cup winning journey in 2011, is currently struggling to find his place in the national squad. He last donned the blue jersey in June last year, playing West Indies in an ODI match at North Stand.  
The Southpaw is optimistic for a return in Team India ahead of 2019 World Cup and believes that he can play two-three more season of the Indian Premier League (IPL) easily watching his current form.
"I don't want to leave the game with any regret, thinking I should have played for some more years. I want to go when I feel it is the right time to go, when I feel I have done my best and I could not have done any more than this," Yuvraj said, while talking about his retirement plans.
"I am still playing because I am enjoying playing cricket, not just because I have to play for India or I have to play the IPL. The motivation is definitely to play for India. I feel two or three IPLs are left in me," he added.
In 2011, Yuvraj was diagnosed with cancer and underwent chemotherapy treatment. At 31, the left-hander made his international comeback in a T20I match against New Zealand, before the 2012 World Twenty20.
"The journey has been nice. I have been a fighter, taking on tough situations. I like being a pillar of strength to people, for those suffering from cancer or going through other issues in life. I want to be known as someone who never gave up. Whether I play for India or not, I will give my 100 per cent on the field," he added.